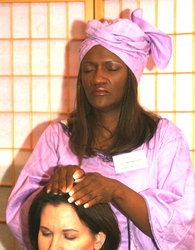 I think your expo is one of the best in the country and you have always created an exceptional atmosphere for the vendors, psychics, healers and those who attend.
Cincinnati, OH (PRWEB) March 25, 2010
The "Art of Happiness" is just one of the fifty seminars presented at the biannual Victory of Light Expo, which will bring 3,500 people to the Sharonville Convention Center on Saturday and Sunday, April 10 & 11, 2010, from 10:00 am -7:00 pm each day. Now in its 19th year, this admired and highly attended event is the largest metaphysical convention in the region, offering the public opportunities to explore the world of body, mind and spirit. Experts will present seminars on a wide variety of topics, such as parapsychology, intuitive development and holistic healing. Twelve of the fifty seminars will include free readings for members of the audience. More than two hundred exhibitors will offer merchandise, including crystals, books, music, art, clothing and jewelry, as well as aromatherapy and wellness products. A music stage will feature live performances both days. Admission is $12 for one day or $20 for both days, and includes all one-hour seminars. Seniors and students receive a $2 discount. For more information, visit http://www.VictoryofLight.com or call 513-929-0406.
Psychic and founder of the Victory of Light Expo, Victor Paruta, will present readings during his popular "Ask A Psychic" seminar. A regular guest on radio and television, including ABC's "The View," and featured in dozens of articles and publications, Paruta is on the faculty of Baker Hunt Art & Cultural Center in Covington, Kentucky, where he teaches classes in psychic and intuitive development. A highly sought after reader, he was voted Best Psychic by Cincinnati Magazine (2005) which stated that he provides "mysteriously accurate and compelling readings." He produced the first Victory of Light Expo in 1992 and has continued to present two events each year in Greater Cincinnati.
"We provide a venue that enhances spiritual well-being in an inclusive and celebratory environment," comments Paruta. "I have seen a huge paradigm shift over the past twenty years. People are looking at themselves and their place in the world in a more holistic way. Today, words like 'channeling,' 'meditation' and 'self-healing' are part of our everyday vocabulary. The Expo supports and encourages this social movement, where eastern and western spiritual and healing traditions meet, creating an opportunity for people to expand their personal potential and empowerment."
Four of the fifty featured seminars include:
Past Life Regression - Sunday, 12 noon. During his highly successful career as an international instructor with the United States Army, William Molitor was awarded the Bronze Star for his actions during the Gulf War in 1991. After retiring from the military, he became a Board Certified Hypnotherapist and Certified Hypnosis Instructor for the National Guild of Hypnotists(NGH). Molitor's two-hour intensive workshop will explore the intrinsic human capability to recall and experience past lives, and includes a group past life regression. Currently the Director of Tri-State Hypnosis Center, he is considered Cincinnati's leading hypnosis expert. An additional cost of $20.00 is charged for this seminar. All other seminars are one-hour and free of charge.
Ask A Medium – Saturday, 12 noon. Cincinnatian Rose Vanden Eynden is a well-known author and medium. Her books include Ask a Medium: Answers to Your Frequently Asked Questions about the Spirit World, Metatron: Invoking the Angel of God's Presence, and So You Want To Be A Medium? A Down To Earth Guide (Llewellyn Publishing).
Is Your House Haunted? – Saturday, 1 pm. Psychic Jill Bruener will tell you if your house is haunted and by whom based on your provided photo.
Art of Happiness – Saturday 4 pm. Presented by Tibetan Monks.
Live New Age, ambient and world music will be performed throughout the weekend by Ron Esposito (Tibetan Brass & Crystal Singing Bowls), Douglas Blue Feather, recognized as one of today's top Native American flutists, Native American singer Terri Rivera Piatt, and keyboardist Lighthawk Mark Kenworthy. Dances will be performed by Emerald Breeze Dance Ensemble.
Complete details about the Expo, including links to presenters' and exhibitors' websites and a detailed seminar schedule are available at http://www.victoryoflight.com or by calling 513-929-0406.
###