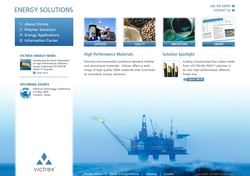 With the launch of victrexenergy.com, we are providing engineers instant access to important information that will help them think about new innovative solutions for their applications
Thornton Cleveleys, UK (PRWEB) May 5, 2008
In a bid to improve access to materials data for Victrex's growing number of energy industry customers, Victrex has launched victrexenergy.com, a microsite designed to meet the specific needs of the energy industry. The launch of this new site is part of Victrex's strategy to continually innovate in all areas of the company, and underlines its "customer-first" approach.
The microsite will showcase how VICTREX® PEEK™ polymer products solve the challenges and growing demands of the energy industry. Application data on the company's expanding portfolio of high performance materials that now includes APTIV™ films, VICOTE® Coatings, PEEK-HT™ and T-Series™ is featured on the site.
Robert Navo, Global Applications Manager for Oil and Gas at Victrex commented, "As the energy industry moves to more aggressive and demanding operating environments, technology is playing a significant role in the drive to reduce the overall cost of hydrocarbon recovery and develop alternative energy. The selection of the correct material is often a key component for success when seeking to overcome these challenges. victrexenergy.com enables the energy engineering community to make informed material choices, quickly and accurately."
victrexenergy.com is a user-friendly site that "talks the language" of the energy markets engineering community. It demonstrates Victrex's thought leadership on providing quality high performance materials solutions to the energy market and underlines the
company's significant investment in its future. Initially the site is focused on specific applications in the oil & gas sector. However, existing and potential applications for alternative energies such as hydropower, nuclear, solar, geothermal and wind power are also featured and Victrex expects these application areas to grow. The oil and gas applications section highlights new technologies, well completions and productivity, data acquisition and industrial innovations.
"With the launch of victrexenergy.com, we are providing engineers instant access to important information that will help them think about new innovative solutions for their applications," Navo concluded.
All Web Cafe, an advanced Interactive Media Solutions Agency, teamed with Victrex plc to develop and launch the company's energy microsite. All Web Cafe has been fundamental in building a strong interactive presence for Victrex, from its corporate web site and a .mobi site to search optimization, online advertising and vertical marketing. This new microsite is the latest in developing Victrex strengths in the interactive marketplace, allowing the company to better serve its customers worldwide.
About Victrex
Headquartered in the UK, Victrex plc is an innovative leading manufacturer of high performance materials, including VICTREX® PEEK™ polymer, VICOTE® Coatings and APTIV™ film. These materials are used in a variety of markets and offer an exceptional combination of properties to help processors and end users reach new levels of cost savings, quality, and performance. All Victrex material production comes under Victrex's ISO 9001 quality registration.
For more information visit victrex.com, victrexenergy.com or victrex.mobi.
VICTREX® is a registered trademark of Victrex Manufacturing Limited. PEEK™, PEEK-HT™, T-Series™, MAX-Series™ and APTIV™ are trademarks of Victrex plc. VICOTE® is a registered trademark of Victrex plc.
About All Web Cafe
All Web Cafe is an award-winning interactive agency that provides creative marketing solutions that formidably fuse with emerging technologies including, Interactive Strategy Fresh Design, All Web Development, Online marketing, Search Engine Marketing and Optimization, User Management (CRM), and Measurement and Analytics.
For further information, please visit allwebcafe.com or allwebcafe.mobi
Enquiries
Liat Egel
Victrex plc
Global Interactive Marketing Communications Specialist
Tel: +1-770-522-0764
Email: legel(at)victrex.com
Claire Walker
Techworks Asia Ltd
Tel: +44 (0) 1296 620201
Email: claire(at)techworksasia.com
Glenn Howes
Techworks Asia Ltd
Tel: +852 2525 8977
Email: glenn(at)techworksasia.com
Photo caption: Victrex's new microsite, http://www.victrexenergy.com, is designed to give energy engineers instant access to application data on VICTREX® PEEK™ polymer high performance materials.
###