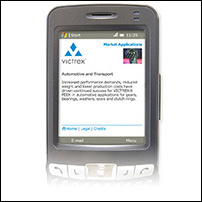 As the world has become more mobile and we all spend more time away from our desks, we realize the importance of accessing data while on the move
Thornton Cleveleys, UK (PRWEB) January 29, 2007
In a bid to improve access to materials data, Victrex has launched Victrex.mobi, an 'on-the-go' version of its website designed specifically for PDAs and handheld devices. As part of the Victrex's strategy to continually innovate in all areas of the company, victrex.mobi is the first of its kind to hit the global materials market.
VICTREX® PEEK, VICOTE® Coatings, along with company and application data is featured on the site.
"As the world has become more mobile and we all spend more time away from our desks, we realize the importance of accessing data while on the move," said Terri Jordan, Global Marketing Manager at Victrex. "With the launch of Victrex.mobi, we are giving designers and engineers instant access to important information while they are in the field."
Victrex.mobi is a redesigned snapshot of the existing Victrex.com website which is available in English, Spanish, French, German, Italian, Japanese, Korean, Simplified and Traditional Chinese. Victrex.mobi is available in English, with a planned roll-out into other languages in the next month. Phase two includes the ability to download technical data, literature, seminars, and podcasts. In addition, Victrex trade show locations and Victrex location addresses will be tied to on-line mapping, giving users the ability to follow a map on the mobile device to the Victrex location.
"The launch of Victrex.mobi is another element of Victrex's customer-first strategy," says Jordan. "Customers in Asia and the US in particular identified a need to access information while they are in the field or on the road, where they are often only able to access the web through handheld devices, such as Blackberry's, Treo's and other PDAs. Viewing and downloading information from a website can be difficult with handheld devices. With Victrex.mobi, users have simplified access to data no matter where they are in the world."
"The introduction of Victrex.mobi is an innovative step for a materials company like Victrex and we applaud their foresight. The availability of mobi domains just became available a few months ago, and Victrex wanted to be one of the first companies in the world to have this type of offering. Users of mobi websites don't have to worry about compatibility or bandwidth issues and, with the touch of a button, they can toggle around numbered pages, making navigation easy," said Steve Williams, Creative Director / President at AllWebCafe, Victrex's Interactive agency. "As the demand for online services intensifies, companies have to implement different and often sophisticated tactics to keep customers up-to-date. Mobi website technology is new and currently offers static sites that are simplistic in appearance such as sites were when the Internet first began."
About Victrex
Victrex plc is the leading manufacturer of high performance materials, including VICTREX® PEEK™ polymer and VICOTE™ Coatings. Victrex materials are some the highest quality materials in the world that offer an exceptional combination of properties to help processors and end users reach new levels of cost savings, performance, and differentiation.
Victrex's materials are used in applications in a variety of markets such as the industrial, aerospace, automotive, electronics, food processing, and medical segments. Invibio®, Victrex's biomaterials business, provides access to specialized products and services for medical device manufacturers.
The company is headquartered in the UK and has a joint venture with Mitsui Chemicals, Victrex-MC, Inc., in Japan. Victrex recently opened a new commercial and technical support facility, the Victrex Asia Innovation and Technology Center, in Shanghai to provide more prompt and hands-on service for regional customers. Victrex's team of dedicated market development, sales, and technical professionals can be found working hand-in-hand with customers around the world assisting them with new application development and prototyping, product performance data and processing.
For more information, please visit http://www.victrex.com or victrex.mobi.
VICTREX® is a registered trademark of Victrex Manufacturing Limited. VICOTE™, PEEK™ and PEEK-HT™ are trademarks of Victrex plc.
Enquiries
Helen Swarbrick
Victrex Plc
Tel: +44 (0)1253 897700
Claire Walker
Techworks Asia Ltd
Tel: +44 (0) 1296 620201
###