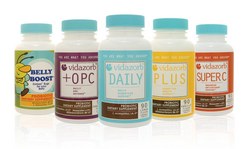 Maintaining the natural balance of 'belly bacteria' may be key to beautiful skin.
Beltsville, MD (Vocus) November 19, 2010
Maintaining the natural balance of 'belly bacteria' may be key to beautiful skin. When gut flora is out of balance, the body is unable to absorb good nutrients, including those essential for keeping skin healthy and glowing—which is especially important in the winter. A belly low in good bacteria, or 'probiotics,' can lead to gastrointestinal distress, allergies, autoimmune disease, and even skin problems like acne. And with cold temperatures more issues can arise with weather-induced dry skin. To address skin problems, probiotic supplements like chewable, non-refrigerated Vidazorb® can be a powerful addition to any skin care regime.
Take for example, Allison, a thirty-something successful professional New Yorker with a highly demanding job who suffers from adult acne. "I was taking probiotics and my skin cleared up beautifully. But when my supply ran out, my acne came back and I decided to give antibiotics a try," said Allison. "What a mistake that was," she went on to say. Once Allison's acne had returned, the breakouts were more intense and frequent. Frustrated with her situation she sought the advice of a colleague, who she learned used probiotics to successfully treat his own skin problems. Armed with this knowledge and validation, she decided to get back on probiotics while finishing up her antibiotic treatment. "Since adding probiotics back into my daily routine, I have noticed a significant improvement in my appearance," she said.
The trouble with antibiotics is that while they kill off the bacteria that cause problems like acne, they also attack the friendly flora in the digestive tract that actually work to keep people like Allison healthy. However, supplementing the diet with a high-quality, non-refrigerated chewable probiotic supplement like Vidazorb® helps address skin problems like acne by re-balancing the intestinal flora as well as putting the good bacteria back in control. Another thing to keep in mind, is if placed on antibiotics due to the cold and flu season, it is always a good idea to use a probiotic as they repopulate the beneficial bacteria that are destroyed in the delicate digestive system.
There is much research being done currently regarding probiotics and skin health, but evidence of the benefit of probiotics with regard to acne treatment dates back to 1964. That is when researcher Dr. R.H. Siver published "Lactobacillus for the Control of Acne".1 While more study is needed, preliminary evidence shows that skin is positively affected by probiotic use - so much so that some dermatologists have begun recommending them for treatment of skin conditions. Research has shown that skin conditions such as eczema show improvement when treated with specific strains of probiotics, like Bifidobacterium, BB-12.2
Some Vidazorb® formulations have an added skin heath bonus—Masquelier's® OPCs, which has been shown in scientific studies to have anti-inflammatory properties3, to significantly reduce UV-triggered inflammatory reddening of the skin and improve skin hydration4. Masquelier's® OPCs also promotes collagen and elastin synthesis as well as enhances their integrity5, all of which play an essential role in maintaining healthy skin.
The full-line of patent-pending Vidazorb® probiotic formulations are now available for purchase online at http://www.vidazorb.com as well as at health and specialty stores. Visit the Vidazorb® website to learn more about digestive health issues from leading MDs and scientific researchers.
About Vidazorb®
Vidazorb® represents the development of superior shelf-stable, chewable probiotic formulations to provide essential support for core health needs. Research and development, together with a commitment to quality and efficacy, define Vidazorb® as a brand of integrity and excellence. For more information, visit http://www.Vidazorb.com. For engaging, kid-friendly probiotic information, visit http://www.Zorbee.com. To learn more about the importance of, and science supporting, probiotics, visit http://www.YouAreWhatYouAbsorb.com.
Vidazorb® can be purchased online at vidazorb.com and drugstore.com.
For more information, or to arrange an interview with a company spokesperson, please contact Leesa Raad, leesa(at)adinfinitumny(dot)com or Beth Hurtubise, beth(at)adinfinitumny(dot)com
1) Siver, R. (1964). "Lactobacillus for the control of acne." The Journal of the Medical Society of New Jersey, 58 (2): 52-53.
2) Isolauri, T. Arvola. (2008). "Probiotics in the management of atopic eczema." Clinical and Experimental Allergy. Volume 30 Issue 11, 1605-1610.
3) Blaszó, G., Gábor, M. (1980). Oedema-inhibiting effect of procyanidin. Acta Physiologica Academiae Scientiarum Hungaricae. 56(2), 235-240.
4) Hughes-Formella, B (2007). "Anti-inflammatory and skin-hydrating properties of a dietary supplement and topical formulations containing oligomeric proanthocyanidins." Skin Pharmacol Physiol. 20(1), 43-9.
5) Pfister, A., Simon, M.T., Gazave, G.M. (1982). Sites de fixation des oligomères procyandoliques dans la paroi des cappilaires sanguins du poumon de cobaye. Acta Therapeutica. 8, 223-237.
Press Contact:
Leesa Raab 212 693-2150 Ext. 314
leesa(at)adinfinitumny(dot)com
Beth Hurtubise 212 693-2150 Ext. 311
beth(at)adinfinitumny(dot)com
###