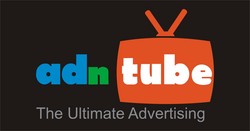 Make videos to make money, advertise for video advertising
Hartford, CT (PRWEB) October 7, 2008
AdnTube.com announces the launch of its online service connecting advertisers and YouTubers for agreement to put ads on videos. Monetary incentives are offered to videographers (YouTubers, metacafe-ers, etc.). Rather than the pre-roll or after-roll ads inserted by most video hosting sites, these ads are blended into the content of the videos during the video-making process, much like videos showing James Bond driving a Ferrari, a college dorm room with a Dell Inspirion laptop on the desk, or an actress sipping from a Starbucks Tall coffee cup.
Advertisers post ad requirements on AdnTube.com. Requirements include parameters such as ad type (text, image, audio), ad content, ad duration and frequency, and minimum number of video views by a certain date. A videographer evaluates any such requirement, selects an advertiser of interest, and then creates a video attempting to satisfy all requirements specified by that advertiser. The videographer receives payment from the advertiser if the created video satisfies all specified requirements by a certain date.
While video advertising is emerging as a new advertising star, this "Make videos to make money, advertise for video advertising" service, according to AdnTube.com, is offering tremendous opportunities for marketers to seek appearance in online videos viewed by millions on popular social network sites such as YouTube and MySpace on a daily basis.
To learn more of how the service works, visit http://www.adntube.com.
Company Contact:
Alex Tung
AdnTube.com
(860) 938-2097
alex.tung @ adntube.com
###