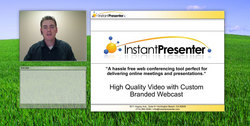 Huntington Beach, CA (PRWEB) April 29, 2009
InstantPresenter.com introduces groundbreaking video broadcasting technology for their Video Conferencing Pro service. The new High Quality Video transforms a standard webcam feed into a crystal clear picture with smooth, real-time motion. Video quality ranges from 250-600 kbps, with a frame-rate of 15-24 frames per second.
"Video is quickly becoming the de facto standard of communication on the web. From the success of YouTube and other video sharing sites, we're quickly seeing the impact of video on the Internet. InstantPresenter is one of the first video conferencing and web conferencing providers to give our customers the ability to broadcast very high quality video to the web -- live and very affordably. We feel that our customers will find tremendous value in this new and exciting offering," said Costin Tuculescu, CEO of InstantPresenter.com.
The High Quality Video Conferencing installs as a plug-in into a customer's browser in less than a minute and works seamlessly with InstantPresenter's Video Conferencing service. Only the presenter needs to install this plug-in and everyone in the online meeting will be able to see the improved video quality. The upgraded video image will result in a large video size of either 320x240 or 640x480 pixels, broadcasting at virtually TV-quality video.
In addition to superior video capabilities, customers can brand their online meetings using custom backgrounds and logos, to give a truly unique experience to their attendees. These new branding capabilities allow small, medium and enterprise level businesses to increase the visibility of their brand to their customers. Presenters from all around the world can now be equipped with tools to easily produce online meetings, webinars or webcasts with high quality video, survey tools, registration tools and PayPal integration. The combination of these features creates a complete, turn-key webinar solution.
Customers such as doctors, Universities, Members of Congress, and Fortune 500 companies have already benefited from InstantPresenter's new High Quality Video capabilities. Webinars and webcasts produced using the new video capabilities are recordable and available instantly online for playback, further extending the value of the live production.
InstantPresenter's platform also has the ability to deliver webinars in several different layouts. The Webcast Platform UI facilitates the broadcasting of high quality video and animated PowerPoint slides, with text chat or Q&A. The Video Only Platform facilitates the live broadcast of video, and allows the presenter to take text-chat from the audience members, without any other elements on the screen that may not be required. A customer can select from any of the available layouts to create a custom tailored online meeting. InstantPresenter is introducing these solutions to new customers starting at $99 per month for 30 seats.
For more information about InstantPresenter.com, please visit the website at http://www.InstantPresenter.com.
About InstantPresenter.com
InstantPresenter.com is a browser based web conferencing and video conferencing service that uses cutting edge Flash technology to allow customers to present online. InstantPresenter.com uses video, VoIP, PowerPoint and more without the need to download and install additional software or purchase additional hardware.
###