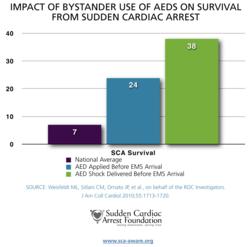 Only one-third of sudden cardiac arrest victims receive bystander CPR and only 2% are treated with an AED by a bystander
Pittsburgh, PA (PRWEB) August 10, 2012
Sudden cardiac arrest—a sudden and unexpected pulseless condition—strikes more than 1,000 people every day in the U.S. and about 90% of victims die. Those who do survive have several things in common—someone immediately recognized the emergency, decided to help, called 9-1-1, started CPR, and treated the victim with a defibrillator to shock the heart back to a normal rhythm.
To raise awareness about the importance of immediate bystander intervention in sudden cardiac emergencies, the Sudden Cardiac Arrest Foundation and the Citizen CPR Foundation are partnering on a video contest, the ECCU "Video Minute" Contest. The grand prize winner will receive an automated external defibrillator (AED)—a $2,000 value. AEDs are safety devices that can be used by anyone—even laypersons—to restore a healthy heartbeat.
"We encourage film students, schools, colleges, youth sports teams, places of worship, and other interested parties to develop videos, submit their entries for consideration, and find out how they measure up against the competition," said Louis Gonzales, a member of the Citizen CPR Foundation Board of Directors.
Videos should be 90 seconds or less and should promote citizen CPR and AED use or recognition of heart attacks, which can lead to cardiac arrest. A panel of reviewers from both nonprofit organizations will evaluate the videos on the basis of adherence to the theme, creativity, production quality, and overall impact.
Entries are due by midnight EST, August 17. The winner and four runners-up will be announced during the Emergency Cardiovascular Care Update, a biennial conference of the Citizen CPR Foundation, to be held September 11-15 in Orlando, FL. Entries will then be posted on the Citizen CPR Foundation and Sudden Cardiac Arrest Foundation websites and the Sudden Cardiac Arrest Foundation You Tube Channel.
"Only one-third of sudden cardiac arrest victims receive bystander CPR and only 2% are treated with an AED by a bystander—but when bystanders do intervene, survival rates increase dramatically," said Mary Newman, MS, president of the Sudden Cardiac Arrest Foundation. "We hope this contest will help raise awareness about the nation's leading cause of death and the simple things anyone can do to help save a life."
For further details, click here. To view past winners, click here.
About the Sudden Cardiac Arrest Foundation
The Sudden Cardiac Arrest Foundation is a national community benefit 501(c)(3) organization whose mission is to raise awareness and save lives threatened by sudden cardiac arrest. The Foundation maintains a national database of survivors and experts available to speak with the media.
About the Citizen CPR Foundation
Founded in 1987, the Citizen CPR Foundation is a non-profit organization comprised of four primary co-sponsors: the American Heart Association, the American Red Cross and the Heart and Stroke Foundation of Canada and Industry partners. The mission of CCPRF is to save lives from sudden death by stimulating