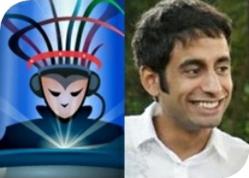 We recognize the need to continually innovate and keep pace with rapidly changing technologies to ensure our members have the best software possible.
(PRWEB) January 23, 2013
Will Franco aka Flywheel, the CEO of premier video email marketing company, jiveSYSTEMS, has relaunched the company's software for 2013, with a suite of new technology enhancements designed to make the software simpler, faster, and more effective.
"Our users' businesses continue to benefit from the jiveSYSTEMS video email software. However, we recognize the need to continually innovate and keep pace with rapidly changing technologies to ensure our members have the best software possible," said Flywheel.
"The internet is a dynamic environment, and for companies to maintain an edge, they need to be dynamic - and that doesn't mean just us, but our clients as well" Flywheel continued.
Widescreen Video Email
The introduction of widescreen video email is one of the major enhancements to the software for 2013, and it has been introduced to improve video appearance on the larger sized monitors being used today. Using smart encoding technology, jiveSYSTEMS also manages to keep the bitrate of the video down, which is a vital component of the viewing experience.
"jiveSYSTEMS users tend to employ the company's video email software initially as a follow up to a first phone call with new prospects, creating a personal connection, showing the face behind the voice," said Flywheel. "This change to widescreen video emails will greatly improve the perceived value and impact of the messages our members send."
"We expect our widescreen video email software to become the relationship-building tool of choice for those who would otherwise need to meet clients face-to-face in order to engage them," explained Flywheel. "Their video email will make the same connection, online, in just a few minutes. We call it the Digital Handshake."
"After they conclude a phone call or receive an email enquiry, they record a quick video as a follow-up to really establish a connection with their clients."
The jiveSYSTEMS software includes 'post-roll call-to-action' links that removes yet another step from the sales process. The link might point to a website page with price or service information, or to a resource they can download.
Embedding Videos
A second new feature is the ability for users to create videos within the system, and embed them into websites and blog posts - on par, Flywheel says, with dedicated video hosting providers.
"We have incorporated superior technology to enable us to provide this feature, one that is a true value-add for our clients. By eliminating the need for them to pay for separate video hosting for the videos they want to embed in their website, we are having an immediate and positive, impact on their bottom line," explained Flywheel.
One-price, No Service Upsells
Unlike many marketing software providers, jiveSYSTEMS has never charged any additional fees for new features and services like coaching and support - and this commitment remains unchanged with the update.
The reason for this, Mr Franco says, is simple.
"Small businesses are continually being asked to dip into their hard-earned profits to acquire the tools and services they need to fulfill their marketing objectives. We are providing a service that is a fixed item on their monthly expenses - no hidden or extra costs," he explained. "This vastly simplifies the relationship, enabling both us and them to focus solely on getting results with video."
More information about the new-look, feature-packed 2013 version of jiveSYSTEMS video email software is now available at jiveSYSTEMS.com
About jiveSYSTEMS
Established by Will Franco aka Flywheel, jiveSYSTEMS is an innovative video email marketing software and training company whose primary objective is to provide the tools, technology and coaching to enable sales professionals, online marketers, and small business owners to leverage this highly effective medium of communication.
jiveSYSTEMS uses state-of-the-art technology and personal coaching to show its users how to significantly increase conversions by incorporating video emails into their communications strategies. By putting a face to the name, video emails have become a key relationship building tool for business people wanting to supplement their plain text communications and auto-responder sequences with more personalized messages. 
Enhancements introduced for 2013 include widescreen video, value-added video hosting for embedding videos into a webpage, post-roll call-to-action links, and more.
Learn more about video email and jiveSYSTEMS at jiveSYSTEMS.com.