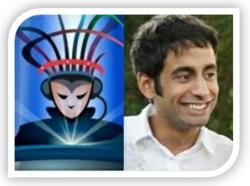 Video email is flat-out the quickest and easiest way to establish trust in the sales process. TRUST = SALES!
Oviedo, FL (PRWEB) May 20, 2011
Electronic communication in the twenty first century is evolving at a pace few could have imagined a decade ago. Smart phone technology alone has created a surge in the number of people accessing their email on the run, and has made concepts like video email a commercial and social reality. Video email marketing software company, jiveSYSTEMS, has now announced a breakthrough in streaming video technology, that is set to open up never before seen opportunities.
While marketers and public relations specialists have been quick to grasp the potential of video email marketing, until now there was an obstacle to its widespread implementation: different devices had different video playing systems. It is this problem that jiveSYSTEMS has now overcome.
"Our videos play on PC, Mac, iPad, iPhone, Blackberry, and Android devices" explained jiveSYSTEMS' CEO, Will Franco aka Flywheel. "Video builds trust. When you have trust you have sales. Fundamental to this process is the fact that the recipient must be able to watch your video email message instantaneously."
Video Email For Marketers
The ability to communicate with clients and prospects through video email, particularly via handheld devices like smart phones and tablets, is clearly illustrated in these hard-to-ignore figures from 'Global Mobile Statistics 2011':

In the 3 months to October 2010, 60.7 million people in the US alone owned smart phones, a figure that is forecasted to hit over 120 million by end-2011.
China is conservatively estimated to have 277 million mobile web users
*Many mobile web users are mobile-only: Egypt 70%, India 59% - even in the US the figure is 25%
Savvy marketers have realized that effectively communicating with this market, and building trust through video email messages, is a powerful strategy in shortening the sales cycle and increasing conversions.
The use of video email in business has grown dramatically in the last 5 years. The '2010 Video Email Marketing Survey and Industry Trends Report' showed that 50% of respondents had used video email as a common marketing practice, and that 73% of these marketing professionals believed that video email marketing would increase click through rates.
jiveSYSTEMS Video Email
jiveSYSTEMS has streamlined the video email process to the point where the whole recording, linking and sending process is done by users within secure jiveSYSTEMS. You can used their cloud-based system, or for those who want that extra punch of quality they even have a proprietary piece of software that you can install onto your computer.
"Every day we are assisting business owners around the world to leverage video email in order to nurture better relationships with their prospects and clients" explained Flywheel. "Video email is flat-out the quickest and easiest way to establish trust in the sales process. TRUST = SALES!"
Businesses are even using jiveSYSTEMS to record evergreen (reusable) videos ready to go at the push of a button. These are often used as a follow up to a phone or email enquiry, and are an effective first-step in the relationship building process. The team at jiveSYSTEMS offers unprecedented level of coaching and support that teaches businesses to put the human element back into their communications.
Now offering ground-breaking video compatibility with PC, Mac, iPad, iPhone, Blackberry, and Android devices, jiveSYSTEMS continues to lead the way in video email marketing technology space.
To learn more about video email, and to access a free webinar about video email marketing best practices visit jiveSYSTEMS.
About JiveSYSTEMS
Established by Will Franco aka Flywheel, jiveSYSTEMS is an innovative video email marketing software and training company whose strategy is to teach sales professionals, online marketers, and small business owners how leverage this new and highly effective method of doing business.
jiveSYSTEMS teaches its members how to significantly increase conversions by supplementing their plain text communications and auto-responder sequences with personalized and evergreen (reusable) video email messages.  Its system leverages a rapid-authoring workflow straight from a webcam or flip style camcorder, and also creates a mini-landing page with customizable exit links to make the videos actionable.
Watch the free video now at http://www.jivesystems.com
###