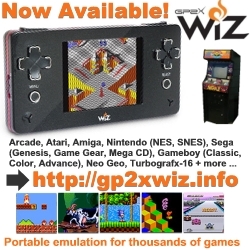 The retro gaming community grows in size every day. The demand for old favorites to be readily available is constantly increasing, despite how many new games are released
Los Angeles, CA (PRWEB) December 1, 2009
If you have been struggling to find the perfect holiday gift for your video game enthusiast, look no further: The GP2X Wiz has proven to be a solid offering amidst countless video game systems. Dubbed the Retro Gaming Emulation Juggernaut, it is smaller than a Nintendo DS and capable of playing thousands of classic arcade and console games.
The Wiz uses Linux-based firmware to support a number of different emulators. As a result, games ranging from classic Nintendo to Sega Genesis to Neo Geo plus Arcade favorites are playable in one handheld device. "The retro gaming community grows in size every day. The demand for old favorites to be readily available is constantly increasing, despite how many new games are released" stated Mark Hall, Wiz enthusiast and proprietor of the community site GP2XWiz.info. He also explained that there is an entire generation of adults now in their late 20s to early 40s who would rather pick up and play some of their old favorites than continue to follow the next-gen games. "Classic arcade games offer a pick up and play experience not found in most of today's games. The user does not need to invest as much of themselves into the games in order for them to enjoy peak action."
Promising to offer a very nostalgic experience, Hall urges individuals to do some research into the concept of game emulation. "I used to spend buckets of quarters on Arcade Games as a child. Now I carry all of them in my pocket." In addition to arcade games, the Wiz can emulate games from Atari, Amiga, Nintendo (NES, SNES), Sega (Master System, Genesis, Game Gear, Mega CD), Gameboy (Classic, Color, Advance), Neo Geo, PC Engine (Turbografx-16), and more. "The open-source nature of this device supports an increasingly large number of developers and game enthusiasts alike."
Since its debut in July from GamePark Holdings in Korea, this device has become readily available in North America through select online retailers. Priced at $179, the GP2X Wiz is sure to be a hit for countless big kids this December!
About GP2XWiz.info
Started by a GP2X Wiz enthusiast, this site operates as a community and resource for all those who are interested in emulating classic video games. There are tutorials and forums on the site to support the Wiz user base, in addition to helping visitors locate the product online. Fellow enthusiasts can reduce their learning curve and avoid tedious trial-and-error by reading up on experiences shared in gp2xwiz.info. The community can be reached on Twitter via @gp2xwizinfo.
###