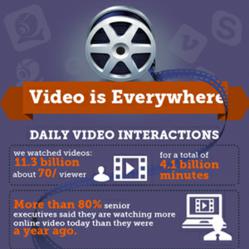 Philadelphia, PA (PRWEB) April 30, 2013
Async Interview, provider of live and pre-recorded video interviewing tools, has compiled data on interactions with video on the internet as well as the use of video in recruitment.
For the last several years, web users have transitioned from gathering information via text to watching videos, live and pre-recorded. So it's no surprise that recruitment has adopted the same trends, calling a lot of attention to branded employer videos, supplementary job description videos and video interviewing. Check out a highlight of the statistics regarding the use of video:
54% of senior executives share work-related videos with colleagues at least weekly.
Cisco predicted video will increase from 30% of internet traffic to 90% of internet traffic by the end of 2013.
More than 80% of senior executives said they are watching more online video today than they were a year ago.
42% of organizations are using video in talent acquisition.
It's time to rethink how organizations can leverage video in recruitment to enhance an experience, save on a trip or engage with others. To download this infographic, visit Async Interview's Resources.
About Async Interview
Async Interview is a technology and service company meeting the needs of corporate and outsourced recruitment professionals through its video interviewing technology. Its suite of video interviewing tools are built to address a process bogged down in inefficiencies, rising costs and laborious procedures. The cloud-based, real-time system gives recruiters, HR professionals and hiring managers the ability to interview, evaluate, collaborate and hire the emerging workforce. http://www.asyncinterview.com