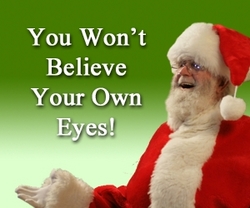 ...creating a video takes only moments, all you need is a picture from your home.
Chagrin Falls, OH (PRWEB) December 18, 2009
Remember the excitement and magic of Christmas? One man is striving to bring back the spirit stronger than ever. His website, TheSantaVideo.com brings Santa Claus into children's homes through the magic of the web. "This is a project close to my heart," said Bradley Owen, creator of TheSantaVideo.com. "I remember how much I wanted to see Santa in my own home when I was a kid! Now I can do that for others."
Visitors to the site can upload a picture of a room in their home, then add a video of Santa, music, and a personal greeting for a cost of $10. There are 10 different videos available, including Santa having cookies and milk, dancing, or leaving presents under the tree. The site allows the opportunity to share the video in several formats including email and social networks. The end result is proof for children on Christmas morning that Santa actually visited, with a personalized video of Santa.
TheSantaVideo.com is the first site of its kind. Though some sites have offered a picture of Santa in your home, TheSantaVideo's concept has uncovered a realism that was previously unattainable.
The Santa Video is a creative endeavor of Bradley Owen, an entrepreneur who resides in Chagrin Falls, Ohio. Owen has spent the past several years developing web-based projects with a creative and philanthropic approach. He knew that making TheSantaVideo.com a reality would bring magic and wonder into the lives of many children this Christmas.
For more information about The Santa Video, or to schedule an interview with Bradley Owen, please contact him directly at contact(at)thesantavideo(dot)com
# # #