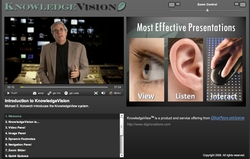 With KnowledgeVision, your best presenters and material are front-and-center with your audience on the web, 24 hours a day.
Concord, Mass. (PRWEB) December 10, 2009
DigiNovations has announced the availability of KnowledgeVision for Brightcove, a web-based companion to the Brightcove online video platform. KnowledgeVision synchronizes video, PowerPoint presentations, images, flash animations, and dynamic footnotes into compelling new on-demand interactive presentation experiences on the World Wide Web. DigiNovations is a Boston-based producer of web video content and interactive experiences.
At the heart of KnowledgeVision for Brightcove is KnowledgeVision Builder -- a hosted, easy-to-use software tool that helps web content creators create Adobe Flash-based players that make tightly synchronized, interactive video presentations available on demand, 24 hours a day. Video streams hosted on Brightcove accounts can drive these synchronized presentations, and viewers can interact with and navigate through the presentation at the click of a mouse.
"Interactivity is the key to the next wave of internet video," notes DigiNovations executive producer and CEO Michael Kolowich. "For several years, we've been offering KnowledgeVision players to our clients as a tool to capture their presentations and offer them on demand to a larger audience. Now, we're putting that power in the hands of Brightcove subscribers customers and substantially extending the capabilities of Brightcove-powered content presentations."
Complete online demonstrations of KnowledgeVision and KnowledgeVision Builder are available at http://www.knowledgevision.net/introduction.
KnowledgeVision is already being used for creating a wide variety of synchronized interactive presentations on the web, including:

interactive sales and marketing presentations;
medical and technical presentations;
archived conference presentations;
new product demonstrations;
employee and constituent communications;
software and product training; and
quarterly financial reviews for investors.
"At a time when companies and organizations are thinly-staffed and travel dollars are tight, it's essential to find new ways to get complex information in front of prospects and constituents," Kolowich observes. "With KnowledgeVision, your best presenters and material is front-and-center with your audience, 24 hours a day."
KnowledgeVision for Brightcove makes full use of the rich set of application programming interfaces (API's) built into the Brightcove video publishing systemonline video platform. As an Authorized Solutions Provider in the Brightcove Alliance global partner ecosystemfor Brightcove, DigiNovations has collaborated with several Brightcove customers to develop a robust enterprise solution for a wide variety of synchronized, on-demand presentation needs.
"The Brightcove Alliance is designed to enable organizations like DigiNovations to easily build new applications and services on top of our market-leading platform," said Bob Mason, Brightcove's chief technology officer. "It is great to see DigiNovations leverage the Brightcove platform to bring an innovative, compelling solution to market. We look forward to our customers taking advantage of KnowledgeVision for Brightcove in the future."
KnowledgeVision and KnowledgeVision Builder are being offered as a hosted enterprise solution at prices starting at $395 per month or $4000 per year. For complete information on KnowledgeVision for Brightcove, go to http://www.knowledgevision.net/brightcove.
About DigiNovations
DigiNovations is an award-winning creative media production company based in Concord, Massachusetts. It specializes in corporate and institutional documentary films and corporate video production, and on the design and management of online video and internet TV channels. In conjunction with ChannelOne Marketing Group (http://www.channelonemarketing.com), the company helps organizations get more value from their video investments by creating, distributing, and marketing business videos using new media and social networking vehicles. The company also publishes the "Web Video Expert" blog on the world wide web.
# # #