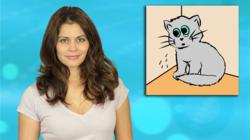 The more I began to uncover, the more I realized this information should be simplified and shared with other cat lovers.
Burbank, CA (PRWEB) July 11, 2012
981 Media, in conjunction with actress Arloa Reston, is announcing the launch of their new web series, "Cat Chat with Arloa". The web series is launching today and has been created for cat lovers and cat owners around the world. Episodes are being posted at CatChat.TV and YouTube.com/CatChatTV.
Approximately one in five cats over the age of 15 suffer from kidney (renal) failure. The disease is irreversible and usually can't be diagnosed until the kidney has already reached over a 70% loss of function. Cat Chat was developed by Arloa Reston and 981 Media after one of Arloa's beloved cats passed away from kidney failure. Looking for answers, she began uncovering simple things she could have done that probably would have extended his life and may have even kept him from developing kidney disease in the first place. "It became a mission to make sure my current kitties don't suffer from diseases that I might be able to prevent, "says Arloa. "The amount of information out there is pretty overwhelming, but I began wading through and talking with veterinarians, pet nutritionists, holistic practitioners, pretty much anyone who might have this type of knowledge. And the more I began to uncover, the more I realized this information should be simplified and shared with other cat lovers."
Additionally, according to the ASPCA, about 5 to 7 million companion animals enter U.S. shelters each year and about 3 to 4 million are euthanized. No-kill rescue groups do their best to take in these animals before they are euthanized, but they have limited funds which translates to limited capacity. Arloa has been a volunteer with a local no-kill cat rescue, Cat Connection in Sherman Oaks, California and wanted to find a way to increase their adoption rate so that more cats could be saved.
"Cat Chat with Arloa" was the result of these two quests: each episode provides feline health tips and highlights homeless cats hoping to be adopted.
When Arloa approached 981 Media with the idea for the series, they loved it and agreed to donate their video production services to the cause. Instead of presenting cat health tips in a typically dry fashion, they came up with a fun, easily-digestible format for the series. Each Cat Chat episode is less than five minutes and is hosted by Arloa, who presents the information alongside animation and fun footage of live cats. The episodes also highlight rescue kitties of the week in the hopes that their perfect person will be watching and take them home.
The first episode, launching today, focuses on one of the most common health issues in cats, Upper Respiratory Infections, which are widespread and infectious. Today's episode discusses common causes of chronic URI's and follows Arloa and her cat Tabitha as they test out a simple way to keep it under control. The episode also highlights a three legged Cat Connection rescue kitty in need of a home.
New "Cat Chat with Arloa" episodes will be available weekly on Wednesday mornings at CatChat.TV and YouTube.com/CatChatTV.
About 981 Media:
981 Media serves companies who want the very best marketing tools around and specializes in using multiple forms of media to promote businesses. They offer award-winning web design, video production, corporate photography, mobile apps, and much more. They chose their name for its ability to represent what they give to their clients. The numbers 9, 8, and 1 mean completion, fulfillment, abundance, power, creativity, and confidence. 9 is also the square root of 81, and together they symbolize synergy and maximized outcomes. To learn more, give them a call at 877-981-6334 or get in touch at http://www.981media.com
About Arloa Reston:
Arloa has been a professional actress for over 15 years in film, television and theatre. Her credits include Saurian (sci-fi channel), Another World, Days of Our Lives, Desperate Housewives, Ugly Betty, Joey, The Strange Case of Dr. Jekyll and Mr. Hyde and the upcoming feature, The Collection, among others.