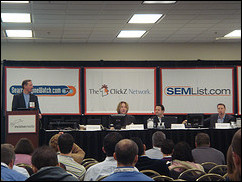 Chicago, IL (PRWEB) December 6, 2006
Search Engine Strategies Conference -- Infuse Creative Founder/President Gregory Markel shared his years of search marketing expertise with Search Engine Strategies conference attendees this morning regarding how to go about the marketing and optimization of video content for such popular video clip search engines as YouTube, MySpace, Yahoo Video, Google Video and others.
Drawing from his years of multimedia experience with such clients as The National Geographic Channel, Fox, (The Simple Life), CBS, (CSI), New Line Cinema, (Lord of the Rings), and many others, Gregory detailed a number of important fundementals and approaches to optimizing video for video search engines and enabling one's video content to be more easily found for target keywords within the wildly popular video search engines, which Forrester Research recently announced, 37% of online users are now using regularly.
Gregory spoke of one example of "an Infuse Creative client who received more than 150,000 free brand and video views from video clip search engines in one week, more than the client's PPC campaign had delivered."
Gregory emphasized, that as video search engines like YouTube, Myspace, Google Video, Singingfish, and Yahoo Video become more and more popular, they should be utilized by movie, music and video content owners as a fantastic source of free and relevant branding and target consumer content viewing opportunities through the inclusion of video search engine optimization for consumers that are looking for video search engine clips.
About Infuse Creative:
Infuse Creative, LLC, employs the latest state of the art technologies and methodologies to the search engine marketing benefit of their lead generation, ecommerce, entertainment, and branding/awareness clients such as Mazda, Pacificare, New Line Cinema and others via full service search engine marketing & Internet marketing services.
Infuse Creative endeavors to live and breath as an innovative and visionary search engine marketing company of great integrity, ethics, superior strategy, results/performance, and fierce dedication to our clients success.
About Search Engine Strategies:
http://www.searchenginestrategies.com
Search Engine Strategies is the premier conference series that keeps you informed about search engine marketing and optimization issues. These events teach you the ins-and-outs of search engine marketing from top experts in the field, along with information from the search engines themselves.
# # #