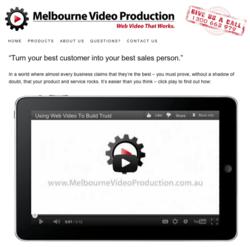 Stats show the rate at which web audiences watch video ads is in excess of 150 per second
Melbourne, Victoria (PRWEB) January 09, 2013
On 27 December, the online advertising and marketing website Advertising Age released a handful of web video stats for the 2012 year. Amongst the data reported on was the fact online video ad viewership was up about 70% more than the previous year, clocking in at over 4.6 billion views. Web video expert and owner of Melbourne Video Production David Jenyns says, "Interest in our services rose significantly last year, but I think 2013 will be much busier as businesses make a mad dash to capture a piece of the growing internet video audience."
Although traditional TV advertising still has its place, for example during the American Superbowl ad breaks, marketing teams are now looking more seriously at using web videos for advertising. With an exponentially growing audience who purposely watch online advertising, then bother to share it with their friends and family, the time is now for businesses to join the web video revolution.
"Stats show the rate at which web audiences watch video ads is in excess of 150 per second," says David, "That's exposure no business can afford to lose."
The biggest challenge for advertisers is to create material that's entertaining enough for viewers to want to watch. Given the landscape of the internet, audiences can easily click-off and move onto something more interesting, so the content had better be good.
David also mentions that as competition grows amongst web video productions, the pressure is on to create professional, helpful and entertaining clips to keep the viewer sitting put.
What's more, web video advertising is a far cry from "impression" style marketing, where a business's ad appears as a box or banner somewhere on a website. On the other hand, internet video ads are engaged by the viewer, meaning they're actively taking the information in, which holds enormous value for the advertiser.
Melbourne Video Production's owner says this fast growing genre of advertising will soon "Outstrip businesses who don't engage in some sort of web video production Whether it's presenting information on your website, or creating an epic advertising campaign, businesses need to join in or miss out."
David continues, "Considering advertising video watches increased by about 70% from 2011 to 2012, it's certain that number will continue to grow in a similar fashion for 2013." David's video production Melbourne company had already experienced an increase for their services last year, but with the trends looking so fervently strong in 2013, he's bracing his team for a bumper year of producing web videos for existing and new clients.
David further mentions he realizes many small to medium business owners are, "Afraid to take that first step into producing an online video because of the assumption it will cost heaps. But they're wrong, it's extremely affordable for all budget types."
After years of producing professional web videos for his Melbourne Video Production clients, David has opened his doors to newbies with small budgets by letting out his studio for merely $40 per hour. His company offers a la carte hire, such as the low-cost 'dry' studio rental, as well as fully scripted and produced web video packages.
The global audience is demanding useful and engaging content for online advertising, and the industry trend can no longer be averted. "Businesses and advertisers have to get their heads out of the sand," remarks David, "and include online video into their marketing budget going forward. If they don't, they'll truly get left behind."
Click here to learn more about Melbourne Video Production's hire products and professional web video packages.
About Melbourne Video Production
Melbourne Video Production is a division of MelbourneSEOServices.com, a full service search engine optimization (SEO) consultancy, based in Australia, but with a worldwide client base.
Melbourne Video Production has the unique ability to combine their web video expertise with strategic SEO practices from Melbourne SEO.
Director, David Jenyns, has, over several years, built a team of experts who are niche experts to support the business, and who share his ethos for ethical, professional internet marketing and web video.