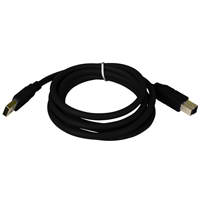 PIMFG.com also carries iPad skin cases available in multiple colors, including the IPAD-SKIN-BLACK, on sale for $7.00
Walnut, CA (Vocus/PRWEB) February 21, 2011
PIMFG.com offers a variety of high-speed USB 3.0 cables, from type A to B or male to female. USB 3.0 is 10 times faster than the traditional 480Mbps limit of USB 2.0, allowing the transfer of large amounts of data in a short period of time. The USB 3.0 cable (USB3-AB-3) is currently on sale for $2.32.
The usage of Micro HDMI cables are becoming more of a standard for device connections. Some of the most recent mobile phones now feature HDMI connections for high-speed data transfer and viewing. PIMFG.com provides the latest in Micro HDMI type cables, making it easy for customers to transfer data from their mobile devices to their computer or TV. Both HDMID-HDMI-3 and HDMID-HDMI-6 are on sale this month for $2.95 and $4.75, respectively.
PIMFG.com provides an excellent assortment of iPhone and iPad covers and screen protectors. iPhone 4 covers protect the iPhone screen from dirt, stains and scratches. IPHONE4-BG-BK is currently available for $2.50. The IPAD-SCREEN-2 protects the screen from scratches, dust and fingerprints, but can also be used as a useful reflective mirror. The iPad Screen 2 is currently on sale for $5.39. PIMFG.com also carries iPad skin cases available in multiple colors, including the IPAD-SKIN-BLACK, on sale for $7.00
PIMFG.com offers a wide selection of computer, home theater, and security products, such as video baluns. PIMFG.com provides live chat online and customer service assistance from 8:30 a.m. to 5:00 p.m. PST. As a convenient option to customers who are located within the vicinity Walnut, CA, PIMFG.com offers "customer pick up" as a shipping option to save on shipping charges.
About PI Manufacturing Corp.
PI Manufacturing Corp. has been providing customers with quality consumer electronics and accessories for over 24 years. PIMFG.com is a manufacturer, importer and distributor of high quality computer, home theater, and security products. For more information and updates on the company's upcoming products and discounts, please visit the PIMFG.com website or subscribe to the mailing list.
###