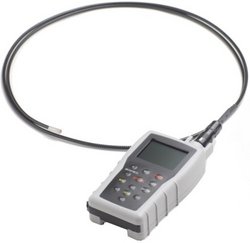 The new Cobra-Scope™ is manufactured to exacting detail. It feels like a quality instrument from the moment you pick it up. Nothing else exists that matches the quality, portability, features and price of the Cobra-Scope™
Melbourne, FL (Vocus) July 26, 2010
The new portable hand held video borescope weighs in at only 1 pound (.5 Kg) and can snake through incredible small accesses as small as 4.5mm (.177 inch). This is the first video borescope to break the barriers of such portability while offering a true high-resolution image and advanced features. The Cobra-Scope™ will be a welcome tool for remote visual inspection professionals across a wide range of industries. Advanced Inspection Technologies expects robust sales of the Cobra-Scope™ due to the advanced features and low price
The new Cobra-Scope™ video borescope offers users a variety of useful features: A tough aluminum molded hand piece offers a durable system, high resolution 1/18" CMOS imager for the clearest images, water proof probe length is constructed from flexible stainless steel and PVC goose-neck for durability, a brilliant adjustable LED light illuminates the area being inspected, still images and up to one hour of video can be recorded on the removable SD memory card, law enforcement will be able to take advantage of the motion sensor that automatically starts recording and the internal battery can be recharged for 4 hours of continuous operation.
"The new Cobra-Scope™ is manufactured to exacting detail. It feels like a quality instrument from the moment you pick it up. Nothing else exists that matches the quality, portability, features and price of the Cobra-Scope™," said Paul Fitzgerald, President and CEO, Advanced Inspection Technologies.
The Cobra-Scope™ video borescope is designed for industrial remote visual inspection at power generation, petrochemical, process, food and pharmaceutical plants. Law enforcement officials and other professionals will also find the portability and features of the new video borescope useful. Applications include: HVAC, industrial and commercial pipes, rotating machinery, aircraft, castings, quality control, law enforcement and drug traffic interdiction.
About Advanced Inspection Technologies:
Headquartered in Melbourne, Florida, AIT is the industry leader in the sales and rental of Remote Visual Inspection equipment. AIT provides unparalleled 24x7 borescope rentals and infrared rentals, as well as foreign object search and retrieval tools. AIT's rental services and products enable companies to inspect machinery, facilities and infrastructure in the safest, quickest and most cost-effective manner possible. AIT's products have been used to improve the inspection process in all industries where image quality, safety, security and accuracy are of the highest concern, such as aviation, electric power generation, petro-chemical, manufacturing, predictive maintenance and infrastructure.
###