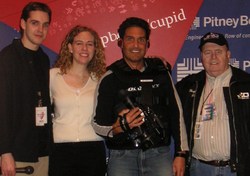 JHD-Dobson Video can play a major role in helping companies tell product and corporate stories while building brand values and their reputations in business and among the public
Deer Park, NY (Vocus) May 5, 2010
Dobson Communications Inc. and JHD Productions Ltd. announced they aligned in a video venture, JHD-Dobson Video, to produce powerful videos for companies to build brand values and protect and enhance their images among important groups ranging from customers to the general public.
"JHD-Dobson Video can play a major role in helping companies tell product and corporate stories while building brand values and their reputations in business and among the public," said Brian Dobson, of Dobson Communications, the full service public relations company based in Ridgefield, Connecticut.
JHD-Dobson capabilities are posted online at http://www.tinyurl.com/2g4j5x5.
Hugh Daly, an award winning Director of Photography and founder of JHD Productions, said "JHD-Dobson Video is a turn key operation wtih great writing and production talent, coupled with a state-of-the-art studio and editing suite to bring TV-quality to company videos that are delivered on budget and on time."
Dobson said, "Whether in our 2,200 square-foot studio in Deer Park, New York, or on location with our equipment and crew, JHD-Dobson Video offers brand building know-how and filmmaking experience to deliver outstanding results for clients."
"Dobson and Daly formed JHD-Dobson to bring world-class brand building and movie making expertise to each client's video assignment," said JHD-Dobson Video.
The company noted, "Dobson has managed public relations campaigns for global, national and local companies, and Daly produced videos for companies, unions and associations and has filmed motion pictures. The combined expertise of Dobson and Daly is now available at JHD-Dobson Video."
Dobson headed PR at a Fortune 50 global consumer products company, was a journalist at Dow Jones and columnist at Reuters before forming DobsonPR.com, which has represented firms from pharmaceutical to high-tech and consumer products and major projects in issues and crisis management. Daly is a Director of Photography with a remarkable array of credits ranging from filming surgery to boxing events to best selling videos and internationally distributed independent motion pictures.
Dobson Communications, online at DobsonPR.com, based in Ridgefield, Connecticut, offers full public relations services. JHD Productions, located Deer Park, Long Island, New York, and online at http://www.JHDProductionsLtd.com, is a fully equipped video production company with state-of-the-art studio, stage, sets, special effects, computer graphics and non-linear editing suite.
For information call Brian Dobson at 203-894-9240 or BD(at)DobsonPR(dot)com.
###