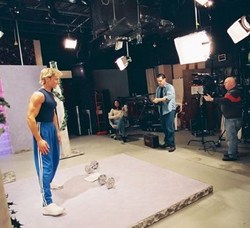 With the Internet offering marketing and image building opportunities, video is vital to create and build brand values, but production has to reflect the highest standards to achieve best results, or the effort could backfire
New York, NY (Vocus) October 6, 2010
"With the Internet offering marketing and image building opportunities, video is vital to create and build brand values, but production has to reflect the highest standards to achieve best results, or the effort could backfire," announced Brian Dobson, Partner of JHD-Dobson Video and head of Dobson Communications.
"For a brand meeting or flash files for website use, JHD-Dobson's videos create the high quality image that is imperative in regional, national or global market environments," he added.
Located in Deer Park, New York, JHD-Dobson Video was founded by partners Brian Dobson and Hugh Daly, whose combined world-class experience producing brand marketing and corporate videos and independent motion pictures are unsurpassed in the region.
Dobson is a brand building public relations expert who has appeared on CNN, RT TV and other news outlets to discuss brand image building and comment on such as the recent public relations crises as the BP oil spill crisis. He and award-winning Cinematographer Hugh Daly teamed to bring a unique blend of brand and video experience and understanding to client needs.
Daly said, "JHD-Dobson Video's state-of-the-art Green Screen wall and floor is located just one hour from midtown Manhattan. Our fully equipped studio, cameras, lighting grids, jibs, sound equipment and range of computer generated graphics, provide all that is needed to produce great video and film product. The non-linear editing suite completes the turn-key capability at JHD-Dobson's studio."
"Geographically, JHD-Dobson is an hour east of Manhattan. Financially, JHD-Dobson is a mile south of the prices you find at NYC video shops. For the best use of video budgets, we offer a package of creative services and production that result in TV network-quality videos at prices that cannot be beaten by New York video firms," added Dobson.
"By asking for the Annual JHD-Dobson Discount when calling or contacting us, video clients will receive an additional 10% off already low prices," he said.
"Digital video equipment is available and some companies naively cut budgets and use amateurish video to save money. Inferior production quality backfires when it comes to brand image," said Daly.
"From our green screen studio to our non-linear editing suite and state-of-the-art cameras and special effects graphics, JHD-Dobson brings network TV quality production to brand at great prices for customers," added Dobson.
JHD-Dobson Video brings a combination of talents to client videos. Dobson headed public relations at a Fortune 50 and began his career as a journalist. Daly has Director of Photography credits on several independent feature films and has created videos for the MTA, the Grammy's, Sperry Instruments and Broadway Cares, among others from industries in healthcare to greeting cards, as well as the military to sports.
JHD-Dobson was founded by Dobson Communications, the Ridgefield, Connecticut-based public relations firm. For information call 203-894-9240 or email Barbara_Green (at) DobsonPR (dot) com.
###