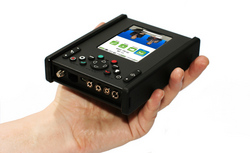 Worlds smallest video conferencing endpoint.
Stavanger, Norway (PRWEB) September 28, 2009
Pixavi today launched its new video conferencing and streaming product series, namely the Xcore 6000 series.
The Xcore is a compact wireless codec, capable of SIP and H.323 video conferencing as well as ISMA Video Streaming using high definition H.264 video and CD quality AAC high-end audio. The device is compact, rugged and suitable for both mobile and custom applications. With a built in battery that enables 6 hours of wireless, mobile HD video conferencing, it offers new opportunities for video conferencing applications. The product incorporates cutting edge technology such as high speed wireless (802.11n), Bluetooth, AVC HD and high definition video conferencing.
The Xcore 6000 is able to connect to any HD video conferencing endpoint or computer running a software video conferencing client or a media player like QuickTime, Windows media player or VLC player. The Xcore 6000 only needs 1 mbps bandwidth for HD video and can connect to any location using a standard internet connection or a satellite link. The product is also backwards compatible to legacy systems running CIF and 4CIF video resolutions.
The Xcore features an integrated keypad, high resolution TFT LCD panel, touch screen, digital microphone, a high gain speaker and an easy to use graphical user interface. Built in high quality Norwegian aluminum, the product is sturdy and ready to take on any communication task you might throw at it.
The new and technically advanced Xcore 6000 series is designed to help organizations face today's challenging global situation dominated by issues like global warming, financial crisis, pollution, terror threats, increasing travel costs and increased competition and efficiency demands.
Explosion proof and super rugged version
The Xcore also comes in an Explosion proof version, the Xcore EX 6000, that features intrinsically safe inputs and outputs. The product is fully certified for Zone 1 and Zone 2 hazardous areas and is IP68 rated (waterproof) as well as impact proof and drop proof up to 2 meters drop on to concrete.
Applications:
Potential application areas for the product includes among others the manufacturing industry, oil&gas, chemical industries, building and construction, telemedicine, surveillance, ship yards, mining, journalism, firefighting, law enforcement and military.
Services:
Pixavi offers the Go Live 2.0 server solution for improving the manageability and ease of connection between the Xcore and other systems as well as networked multimedia storage. Go Live 2.0 provides a secure, encrypted communication solution based on Web 2.0 technology.
Pixavi CEO, Christian Rokseth explains: "The Xcore 6000 is a fully featured HD video conferencing endpoint in a device that fits in the palm of your hand. This really opens up for new and exciting applications within video conferencing. "
Mr. Rokseth continues: "The Xcore is designed for end users and integrators who want to put HD video conferencing and streaming where it has not been possible before. The highly integrated and compact design, battery option and its wireless features makes the product very unique in today's video conferencing product spectrum. The product fits nicely with our existing wireless video collaboration solutions, including wireless network solutions, wireless surveillance products and wireless location systems. With this complete offering, our customers can now deploy a cost efficient, secure and industrial grade communication infrastructure solution all provided from one vendor."
Green Technology:
Pixavi Sales Manager, Thomas Zaubi states: "Green technology is becoming an increasingly important, if not mandatory, key to success for maintaining the planet we live on. The Xcore product has the capability of contributing to a lower carbon footprint for businesses through decreasing the need for travel and improving operational efficiency. We recently launched the Green Ring of Excellence initiative in an effort to put emphasis on this very important aspect."
Interoperability:
Pixavi has successfully tested interoperability with HD endpoints from leading vendors like Tandberg, Polycom, Lifesize, Sony, Cisco and Radvision.
Pricing & Availability:
The Xcore 6000 Series is available today, with a start price tag of USD 6250,-. In addition, Pixavi is offering 3 levels of service, depending on the customer needs, including hosted and managed services like Go Live 2.0, SIP services and hosted video conferencing software solutions.
About Pixavi:
Pixavi (previously VisiWear) is a privately owned Norwegian company offering innovative and industrial grade wireless communication products, including High Definition video products, wireless network products (802.11n, 802.11g WiFi, LTE and WIMAX), WLAN antenna products, location tracking and wireless video surveillance technology. Pixavi introduced its first video collaboration system back in 1999 (ST1000). The company's award-winning products are used by leading enterprises in a multitude of industries. With a broad suite of high-tech and open standard based products, Pixavi has a high focus on technology innovation with more than 70% of our staff working in R&D.
Contact us for more information:
Thomas Zaubi
Sales Director
USA: "+1 408 627 7811"
Norway: "+47 90943156"
sales(at)pixavi (dot) com
http://www.pixavi.com
# # #