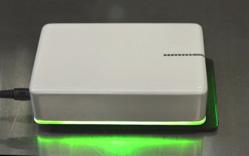 The big difference here is that our audience has sought out our videos with the express purpose of viewing them
Melbourne, Victoria (PRWEB) November 13, 2012
On November 10th The Atlantic published an article about a little device that promises to block all variety of online advertising. If successful, the invention called AdTrap, will retail for $120 and keep internet browsing advertisement-free, much to the dismay of promotional companies and the websites who benefit from their campaigns. Australian video marketing expert David Jenyns says he's unmoved by the device, and claims his marketing strategies are welcomed experiences for viewers.
As the internet has grown over the years, it's become a jungle of neon advertisements and flashing 'last chances'. Internet browsers have had little choice but to try and ignore the intrusion. This constant infiltration of ads is exactly what inventors of AdTrap have promised to stop.
"I myself have always expressed a dislike for aggressive advertising, spamming, and all that kind of stuff," says David Jenyns, an expert in video marketing in Australia, and owner of Melbourne Video Production, "Through my years of internet marketing experience, I know there's a willing audience for AdTrap."
AdTrap is in the working prototype stage and requires pledges of $150,00 in order to commence shipping out. David comments, "Even if AdTrap doesn't make their December 8th pledge deadline, I think the publicity for it will bring more prototypes out, and someone will make it fly."
If AdTrap is successful, the device will change the landscape for online advertising completely. Marketers will have to invent new ways to try and get around the device to reach their elusive audience. Good news for consumers though, is that AdTrap is updateable, meaning it can be armed to block new kinds of ads.
"I know a lot of people who are panicking about this little gadget," says David, "because it makes the entire purpose and process of ads useless. And the websites who earn revenue from them will have to do a serious re-think."
David goes on to say that his contemporaries, and some clients, have been asking how this invention will affect those businesses using his video marketing strategies. David assures them, "My techniques will remain untouched by AdTrap or any other ad blockers. Yes, our web videos are a form of marketing, but our primary purpose is to make engaging and useful content that viewers want to watch."
David explains that Melbourne Video Production doesn't make advertisements, they create video marketing campaigns designed to increase a website's helpfulness and value. "We're not an advertising agency," Dave confirms, "The big difference here is that our audience has sought out our videos with the express purpose of viewing them."
To find out more about Australian video marketing that will remain unaffected by ad blocking gadgets, visit: http://www.videomarketingaustralia.com/
About Melbourne Video Production
Melbourne Video Production is a division of MelbourneSEOServices.com, a full service search engine optimization (SEO) consultancy, based in Australia, but with a worldwide client base.
Melbourne Video Production has the unique ability to combine their web video expertise with strategic SEO practices from Melbourne SEO.
Director, David Jenyns, has, over several years, built a team of experts who are niche experts to support the business, and who share his ethos for ethical, professional internet marketing and web video.