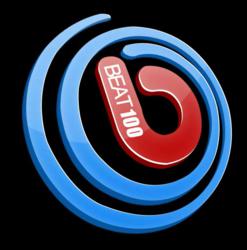 "It was very easy to set up and upload. We cannot wait to upload one of our other videos very soon." – Luke Chase
(PRWEB) November 08, 2011
Beat100 rounds up another month of fierce competition among its social networking minions crowning a new victor in both charts and freeing up space for yet more Beat100 hopefuls.
The Music Chart was as intense as it ever has been and ended up seeing Luke Chase of Leicester based band 88 Miles Per Hour snatch the top spot and the prize money to boot. 88 Miles Per Hour consist of James Barlow, Jamie Cross & Chris Neagle & of course Luke who are all in their very early twenties. The band has been going for about 2 years & are all self-taught musicians covering an array of instruments including sax, violin, guitar, bass & drums.
Luke found out about Beat100 through an advert on the Internet & rightly thought that a cover of Katie Perry's 'Firework' would rocket them to the top of the chart. The boys went on to explain that any exposure is good exposure & that Beat100's simple to use interface made it a piece of cake to upload they're desired video.
"It was very easy to set up and upload. We cannot wait to upload one of our other videos very soon." – Luke Chase, 88 Miles Per Hour 88 Miles Per Hour have massive plans for the future releasing their début EP and are sure that Beat100 has helped the band well on their way.
Second in the music chart picking up their own share of the prize kitty are Essex Metal entrepreneurs Legion. The band packs a heavy punch live producing elements of thrash, death metal, hardcore and straight up heavy metal. Some miles away, in Brazil to be precise, Beat100 finds its Music Chart third place entry, Rogerio Vaz. Covering John Mayer's 'Daughters' acoustically, Rogerio branched out across the social network and racked up enough votes to secure the silver place.
Beat100 has become a proven Launchpad for aspiring bands & artists to reach out to a bigger crowd, not just to the ever-growing Beat100 community but worldwide through Beat100 going that extra length to spread the word and help this undiscovered talent flourish.
The Video Lifestyle Chart produced just as much excitement as the Music Chart through October & many more laughs with perhaps the shortest ever entry at just nine seconds long leading the pack. Beat100 user 'Gazmatic' uploaded the hilarious clip which sees a young BMX rider about to set off down the ramp, unfortunately for this particular rider he is a little closer to the edge than expected & tumbles off of the edge! It just goes to show, its quality, not quantity.
# # #