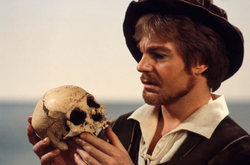 quite simply a milestone in programming
New York, NY (PRWEB) January 15, 2009
Stream the Bard, James Burke's Connections, Jacob Bronowski's Ascent of Man, as well as hundreds of other award winning programs now available at ambrosedigital.com.
The collection includes The BBC Complete Dramatic Works of Shakespeare with acts chaptered for easy access. The individual BBC Shakespeare plays have never before been available to the streaming and downloading marketplace. These unabridged presentations are perfectly suited for easy access that all students and faculty will appreciate with their one-year institutional license. These productions feature some of Britain's most distinguished theatrical talent, Anthony Hopkins, Sir John Gielgud, Patrick Stewart, Derek Jacobi, Claire Bloom and more.
In addition to the BBC Shakespeare titles, hundreds of programs and short self-contained, single-concept clips from the Ambrose Video Collection are now available. These titles may be streamed or downloaded in all the popular Internet video formats at very affordable prices--some for as little as $1.99 for a full year's use at ambrosedigital.com. Programs and clips are available in various subject areas including U.S. History, World History, Science, Fine Arts and English for age levels from Middle School to Adult.
Highlights include the highly acclaimed original Connections series with James Burke tracking 12,000 years of science history in a 10 part series. Winner of the Red Ribbon in the American Film Festival, the scope of the series covers 19 countries, 150 locations and required over 14 months of filming.
Ascent of Man is the classic series that the New York Times called "quite simply a milestone in programming". Dr. Jacob Bronowski's unorthodox, non-scripted delivery takes us through a massive survey of science from flint tools to the theory of relativity.
Other titles include America's National Monuments, History's Turning Points, History of the U.S. Constitution, A History of American Indian Achievement, A History of Chinese Achievement in America, A History of Hispanic Achievement in America, A History of Women's Achievement in America, A History of Black Achievement in America, Global Warming, Shock of the New, Great Artists, Life After Oil, Core Meteorology, and many more. Educator's Guides, historical documents, maps, tests, photo galleries and other useful support resources links are available for download directly from the site.
The site was designed in cooperation with Iris Education, a division of Seattle Community College TV, a leading Content Delivery Network for the educational marketplace. The design is simple, straightforward and effective making it easy to find the programs that meet your needs. Once you purchase a download or a stream, it's always available within the one year licensing period from your account information page (see our tutorial).
All program files are optimized for the very best quality available including the newest H.264 technologies. Some are even available in High Definition. Choose from any popular video format either download or streaming--one title or a bundle--all at affordable prices.
# # #