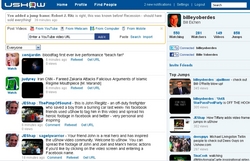 The user can pause a video at any moment that interests them and type directly inside the video frame to add their opinion or tag friends
Palo Alto, CA (PRWEB) July 30, 2009
uShow today announced a leap forward in relevant online video discovery and sharing by unveiling a simple service to let users automatically find the videos of people they follow, cue up precise moments within them that are worth watching, express their opinion on those moments, and instantly share these "Jump Frames" on Twitter and Facebook.
uShow First-Time User Experience Is Simple And Social
Once relevant videos have been automatically imported, uShow delivers a simple way for users to express their opinion. "The user can pause a video at any moment that interests them and type directly inside the video frame to add their opinion or tag friends", said Joe Shapiro, Founder and CEO of uShow. "It makes the user experience social and fun - especially when a user types Twitter and Facebook names in the frames." The creation of jump frames is an easy way for bloggers, artists, fans and friends to share what is worth watching.
When friends and followers receive their uShow jump frame, the link opens the uShow player to the exact tagged moment. "I want to 'cut to the chase' when my blogger friends send me long videos," said Shapiro, "Now I can start watching from their jump frame and add my opinion on that frame."
Content creators including bloggers, celebrities, musicians, and artists can promote themselves with a suite of simple video tools: webcam capture, file upload, and mobile email. Entire YouTube video libraries are instantly imported and jump-framed. Fans and friends connect to uShow's video community in real-time by adding jump frames and comments.
"uShow's automatic video discovery and jump frame user experience are natural extensions of what we've seen in the video sharing market," added Bill Eichen, Chairman of Software Incubators. "uShow's crowd sourcing of video is a fresh approach to enabling this market trend."
About uShow (http://www.ushow.com)
Founded in 2008, uShow is a video discovery corporation located in Palo Alto. The company is enabling the next wave in video sharing and editing through advances in content creation, syndication and social networking. uShow extends the reach of today's "crowd sourcing" of video content by adding unique in-frame video jump technology. Contact info: contact@ushow.com or call 650.868.4999
###