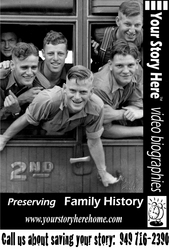 Your Story Here recorded the Giacchino family story," confirms Michael Giacchino, Hollywood composer for movies like the Incredibles, Ratatouille and Cloverfield.
Orange County, CA (PRWEB) December 5, 2009
At a time when most small businesses are cutting back and watching their pennies, one Southern Californian company is making the biggest donation in its history. Your Story Here LLC, an award winning video production company based in Orange County, California, is donating a full-length, custom produced, personal history documentary to be auctioned live at the Thirteenth Annual Gala Teddy Bear Ball to be held on Monday December 7, at the Beverly Hilton Hotel.
Your Story Here CEO, Jane Shafron, said the decision to donate was easy. "The Help Group serves children with special needs related to autism, Asperger's disorder, learning disabilities, ADHD, mental retardation, abuse and emotional problems. It is the largest nonprofit organization of its kind in the United States," she said.
The Help Group's motto is: 'Because every child deserves a great future…'
"Our company specializes in producing bespoke personal and family history documentaries," said Jane Shafron. "All the stories we record represent the successful futures that the subjects managed to achieve. For kids with special needs, there may not be any successful futures - without the help of organizations like The Help Group."
Does a donation of this magnitude - in these tough times - sting just a little bit? "Not one bit," says Jane. "Despite these dismal economic times, we are finishing our busiest year on record. It seems that people are turning to the important things in life. Like family, and honoring and remembering loved ones. Spending money on something that will be a treasure for generations does not seem to be an issue for our clients," she said.
Jane wrote a blog article about this return to core values that she is seeing in her business. It is called "It's not about the toys": http://yourstoryhere.blogspot.com/2009/09/its-not-about-toys.html
Your Story Here (http://www.yourstoryherehome.com) has recorded more than 60 personal history documentaries, including the complex story of a successful Italian American family. "Your Story Here recorded the Giacchino family story," confirms Michael Giacchino, Hollywood composer for movies like the Incredibles, Ratatouille and Cloverfield. "They did a great job on a pretty complicated family history. The finished product was awesome."
The Giacchino documentary starts with Michael's older brother John in the kitchen with their father. They are cooking home-made pasta together and arguing the merits of bottled garlic (see embedded video).
The importance of recording personal and family history was recognized by Robert De Niro in Esquire magazine in December 2002. In an article titled "What I've learned" he noted that when a parent died, it was the end. He said "I always wanted to chronicle the family history with my mother. She was always interested in that. I wanted some researchers I'd worked with to talk to my mother, but my mother was a little antsy about it. I know she would've gotten into it... But I wasn't forceful, and I didn't make it happen. That's one regret I have. I didn't get as much of the family history as I could have for the kids." Read more: http://www.esquire.com/features/what-ive-learned/ESQ0103-JAN_DENIRO#ixzz0YmWzwSOr
For those attending The Help Group Teddy Bear Gala this coming Monday, they should have no cause for the regret Robert De Niro feels. All they need to do is outbid the guy at the other table and take home a custom produced personal history documentary from Your Story Here.
Your Story Here is an award winning boutique video production company based in Southern California and specializing in video biography. Their short films have won awards including at the Lake Arrowhead Film Festival and the Big Bear International Film Festival. They have made over 60 documentaries for people who wish to preserve their story for future generations. "Your Story Here" is a registered trademark of Your Story Here LLC.
# # #