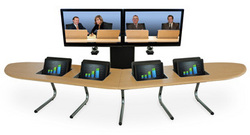 Attractive, functional, affordable. Now any organization can do video conferencing the right way.
Baltimore, MD (PRWEB) March 4, 2010
SMARTdesks is proud to announce the launch of Boomerang™ Video Conferencing furniture for state-of-the-art corporate communications.
Boomerang™ design distinctions are that they have be created for two-camera/screen or three-camera/screen telepresence geometries; genuine flipIT® appliances are installed for presentation data to be viewed in the user space; no on-site customization required; world-class corporate image shipped to any destination worldwide.
Boomerang™ gets its name from its distinctive shape in conference tables, which look as if they are airborne in the room. The stable, robust tubular steel legs give a sculptural support for the top and modesty panel that arrange the participants for the cameras. Constructed of 30mm MDF, contour milled and fully encapsulated in high performance 3D thermofoil, Boomerang™ will retain its good looks, resisting scratches and wear, impervious to aggressive environmental factors, such as shipboard marine environments.
The two-camera/screen video conferencing configuration -- Boomerang Studio4™ -- has a footprint of 426 x 122 cm (168 x 48 in) and is designed in two sectionals. The three-camera/screen telepresence configuration --Boomerang Studio6™ -- footprint is 635 x 152 cm (250 x 60 in), designed in three sectionals. This design permits the units to easily travel the corridors, doorways and elevators to arrive at their destination for installation. All surfaces are dressed for the cameras.
Genuine flipIT® appliances are integrated into the Boomerang™ top with matching surfaces. flipIT® Laptop Safes are available in 18 or 23 models, which accommodate 432mm (17 in) laptops, the 23 giving more side room for laptop power and data connections. Laptops are dressed for the camera, present data to the users, and can be quickly put away, clearing the desktop to remove visual clutter from the video composition. Similarly, flipIT® wide screen LCD stations, available in 19 and 23 widths, accommodate 16:9 aspect ratio displays up to 508mm (20 in) and 610mm (24 in) diagonal, respectively. The benefit of having presentation data in the user space is that it is easier for the user to view and when data is being viewed, the people on camera have a context for their averted eye movement that shows engagement, rather than sending an errant body language cue of aloofness. Screens are presented in a semi-recessed position so they do not obstruct the camera sight lines, and the backs of the LCDs are dressed for the camera. When not needed, they instantly disappear from the shot.
SMARTdesks is a designer/manufacturer of furniture for video conferencing environments. Serving corporate communications, governments, higher education and scientific communities, SMARTdesks computer furniture promotes effective group dynamics for collaboration and creative exploration. SMARTdesks takes a team approach for each customer taking the structure of the customers' organization into account. Accordingly, design approach, proposal preparation, product customization, delivery and installation is a process that is managed to leverage the best use of the customers' internal project team. SMARTdesks ships computer conference furniture world-wide. Contact the entire team through http://www.smartdesks.com and use the PriceQuote proposal request or Design Request tools to receive floor plans and support documents for your purchasing process, all without additional cost or obligation.
###