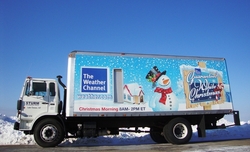 We were amazed at the response to this contest and what having a white Christmas would mean to each entrant and their family.
Atlanta (Vocus) December 17, 2009
This morning, live on Your Weather Today, The Weather Channel® (TWC) announced that a resident of the Florida Keys is the winner of its "Guaranteed White Christmas" contest. Six-year-old Michael, whose video wish for snow was submitted on his behalf by granddad, Howard Livingston will wake up with his family to a yard full of snow and live broadcasts by The Weather Channel on Christmas morning.
TWC and meteorologist Adam Berg will report live from the Florida Keys Friday, Dec. 25, (8 a.m.-2 p.m. ET) to capture the spectacle and the family's reaction as their waterfront home transforms into a winter wonderland. Tune in as TWC offers a roundup of the latest Christmas Day forecasts around the nation to see who is enjoying a true white Christmas.
TWC will air a half-hour Guaranteed White Christmas Special, showcasing the best of the video submissions and interviews with the grand prize winner Friday, Dec. 18, at 8:30 p.m. ET.
View contestant video submissions online. Michael's grand prize winning video features his family and his dream for snow on Christmas so he can have a real snow ball fight, and he sadly exclaims that a snowman can't be made out of Styrofoam snow.
"As The Weather Channel, people often ask us if we can change the weather so it's fun for us to actually do so and create snow on Christmas Day," commented Geoffrey Darby, executive vice president of programming, The Weather Channel. "We were amazed at the response to this contest and what having a white Christmas would mean to each entrant and their family."
Contest finalists include Timothy Adams of Huntersville, NC; Phoebe Garcia from Spring Hill, FL; Roberta Jupp of Lexington, SC; and Greg Rozas from Baton Rouge, LA. A panel of judges from TWC viewed video submissions and, based on uniqueness and creativity of the submissions, selected the finalists and one grand prize winner. Finalists will receive a $100 gift card for http://www.weather.com/store and DVD collector's editions of TWC programs including When Weather Changed History and Epic Conditions. Finalists will also receive The Weather Channel "Holiday Party" CD, autographed by Aaron Neville, whose single "Please Don't Forget" is featured on the CD.
About The Weather Channel Companies
The Weather Channel, a 24-hour weather network, is seen in more than 99 million U.S. households. The Weather Channel reaches more than 40 million unique users online per month through weather.com and products including The Weather Channel Desktop, making it the most popular source of online weather, news and information according to Nielsen//Net Ratings. The Weather Channel also operates The Weather Channel HD; Weatherscan, a 24-hour, all-local weather network; The Weather Channel Radio Network; and is the leading weather information provider for emerging technologies.
This includes broadband and interactive television applications and wireless weather products including the most popular content site on the Mobile Web. The Weather Channel Companies are owned by a consortium made up of NBC Universal and the private equity firms The Blackstone Group and Bain Capital. For more information, visit http://www.weather.com/press.
Media Contacts:
Vanthan Khel, The Weather Channel
770-226-2180
David Blumenthal, The Weather Channel
770-226-2611
###