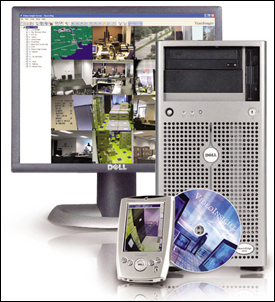 There is no other software on the market that has this flexibility in managing events
Houston, TX (PRWEB) November 7, 2006
Version 3.0 of the Video Insight video surveillance software is now available. The Video Insight system is now the system of choice for multi site implementations. The software provides great frame rates and crystal clear images over a standard DSL. The system is very scalable and can be used for one location or 500 locations. There are no extra charges for managing multiple sites.
Version 3.0 has a great new look and feel for the Server, the Network Client and the Web Client. The system can be up and operational in 15 minutes. The product is easy to use and there is virtually no training required.
There are also improved tools for integration and customization. The Video Insight surveillance system now provides the Task Manager which is a scripting language that automates multi-step tasks on specified events. For instance, security personnel can set up a condition that if motion is detected and an alarm is triggered, the PTZ camera will move to a preset position and a clip of the event will be emailed to predefined user. "There is no other software on the market that has this flexibility in managing events", says Video Insight CTO, James Whitcomb. Video Insight offers a full SDK to assist in the integration with other systems such as access control and POS.
Video Insight is dedicated to the success of dealers and integrators. The product offers the best value for the price which means better sales and better margins. There are comprehensive marketing assistance programs as well as great revenue sharing opportunities. Video Insight promises honesty and transparency and unparalleled US based Technical Support. Read about the Video Insight Integrator Programs
About Video Insight
Video Insight is a Houston based software company. Video Insight offers both traditional DVR solutions and IP camera software. The Hybrid DVRs support both analog cameras and IP cameras from all leading IP camera manufacturers. Security professionals can view live and recorded video from the Network Client or over the internet with a standard web browser.
Take a test drive online live web demo or visit Video Insight at http://www.video-insight.com.
# # #