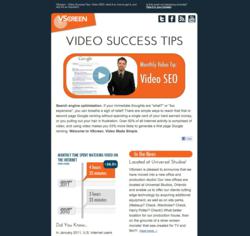 Statistics show that over half of all Internet usage is video related!
Orlando, FL (PRWEB) July 31, 2011
With Internet video's popularity at an all-time high, video marketers and businesses will now be able to take advantage of a free "how to" video tips newsletter from VScreen to help them with creating their own videos.
According to VScreen's CEO, Stephen Schweickart, the focus of the monthly newsletter will be practical "hands-on content" for showcasing basic tips about video production and marketing. Typical content will range from topics such as "How to Reduce Production Costs", to "What is Storyboarding", "What is the Best Camera", "Why Social Media Video", "Making a YouTube Marketing Video", and "Online Video Marketing Tips".
"Our goal is to be an easy to understand, practical source of timely information that video marketers can put to use immediately," said Schweickart, who added that the newsletter will be free to anyone who signs up for it at VScreen.com. The first edition is slated for release on August 1st.
Schweickart cited that Internet video marketing is a tool that is seeing unprecedented growth for businesses of all sizes. Statistics show that over half of all Internet usage is video, and that properly distributing video will increase the chances for an organic 1st page Google ranking by up to 53 times. In addition, video thumbnails are 41% more likely to be clicked on than other link types, making them a powerful tool for websites, social media, and email campaigns.
# # #