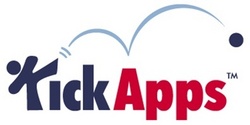 As social media and online video become a greater part of every web publisher's website, technical and business complexity should be replaced with efficiency and a easy path to revenue generation
NEW YORK (PRWEB) September 24, 2008
Online video has emerged as one of the most engaging applications on the web today and advertising budgets are following suit. Recent research conducted by Bain & Company in coordination with the Interactive Advertising Bureau finds that video advertising is garnering an average CPM of $43, with demand for video inventory outstripping supply.
KickApps customers that have bought out the advertising inventory from their KickApps powered social media and video websites will be able to access these new advertising features. Integrating video ads is a simple three-step process:
1) Create a custom video player using the KickApps Widgets and Video Player Studio
2) Select from a list of modules of ad networks or pre- and post-roll
3) Provide the ad network's publisher ID number or the URL of a Flash video file
"As social media and online video become a greater part of every web publisher's website, technical and business complexity should be replaced with efficiency and a easy path to revenue generation," said Alex Blum, CEO of KickApps. "We've applied this principle throughout the KickApps Platform, making it incredibly easy to create compelling social media and video experiences, and now making it easier than ever for web publishers to monetize video on their websites. With the enhancements we've made over the last few months to the Platform and the KickApps Widget & Video Player Studio, every web publisher and designer is just a few clicks away from being a social media rockstar."
About KickApps
KickApps provides on-demand social media, online video and widget applications that enable web publishers and marketers to grow, engage and monetize online audiences. Its SaaS platform includes social networking, user-generated content, programmable video players, drag-and-drop widget building, WidgeADs™ and other applications that are tightly integrated with robust media moderation, member management and reporting. The KickApps Platform seamlessly integrates with any website using HTML, CSS, JavaScript, feeds, Widgets and APIs (REST and SOAP). Customers include: SOAPnet, CW Television, Guinness World Records, Scripps Network Interactive, HBO, Cinemax, Cox Television, the Phoenix Suns, the New York Knicks, the New York Rangers and thousands of other sites. For more information, visit http://www.kickapps.com and http://www.kickdeveloper.com.