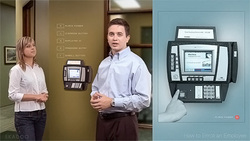 Even the learning process of how to properly drill the hole in the wall can be a very exciting and entertaining experience
Torrance, Calif. (PRWEB) February 24, 2010
Web development company EKADOO, LLC (http://www.ekadoo.com) announces a formation of a new video production division focused on providing cost-effective training and educational solutions. These solutions include implementing HD video, special effects, 3D animation, interactivity, custom online video content management system (CMS) and video content distribution using streaming technology and DVD distribution.
"Today the seamless integration of video production and web development sounds quite common," says Igor Tolstocheev, vice president at EKADOO, LLC. "The web video experience has become an affordable and powerful business tool, and numerous business applications can benefit from engaging the interactive video content, flexible video agendas (such as tables of contents), content security and viewers' access rights distribution and, video analytics reports. Our recently completed video projects have received very encouraging feedback; a corporate employee training video significantly reduced expenses for travel, presenters and training centers, payable hours for device/product installation for a multi-facility company. The video training is provided on demand over the streaming server and using video for services and product implementation has proven to be a win-win for all parties."
"All video production and video post-production projects are performed in full HD format and used for distribution on DVDs. For web distribution, all projects are encoded to the H.264 format to ensure the highest level of encoding quality up to the streaming server bandwidth limit from small, optimized FLV files all the way to true H.264 HD 1080p quality video," added EKADOO's video division director, Dmitry Bondarchuk.
Video production services include full HD video, CGI (computer generated imagery) complete live video integration, green studio production, self-explanatory animations and interactive, dynamic data visualization. The full range of post-production services is also available and includes pre-visualization, 3D visualization, non-linear editing, 2D and 3D animation, compositing, color correction, voiceovers, sound design and final mastering.
"We believe that such a comprehensive tool set is the key to the effectiveness of any educational or training video project," says Tolstocheev, "and will help make it as descriptive as possible and self-contained, as well as entertaining, keeping viewers attuned and receptive to the content throughout the entire training session. Even the learning process of how to properly drill the hole in the wall can be a very exciting and entertaining experience."
EKADOO, LLC is located in the Torrance West Executive Plaza at 3868 West Carson Street, Suite 324, Torrance, CA 90503. For more information about the company and its services, visit the site or call (310) 363-0715.
Media Contact:
Igor Tolstocheev
(310) 363-0715
http://www.ekadoo.com
###