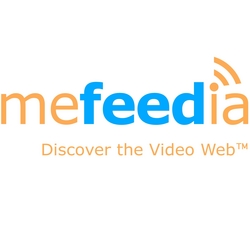 Mefeedia as a personal video portal was founded on the premise that consumers are ready to move beyond simple browsing and searching, and ready to create a more personal, relevant experience that allows people to search and find new video - no matter where that video is hosted, or what device they are using
Burbank, CA (PRWEB) March 19, 2008
Mefeedia (http://www.mefeedia.com), a leading personal video portal, today introduced a new video search engine that gives consumers an easy and efficient way to find and filter video from over 15,000 video websites. In addition, Mefeedia launched 3 vertical video searches for TV, Music, and Podcasts.
The new video search helps users to find everything from the most popular videos on YouTube, to the latest episodes of The Office from NBC, to the most recent music video from Amy Winehouse, to the latest original web episodes from Rocketboom -- all in one place, and all viewable without having to leave Mefeedia.com. Combined with the personal discovery aspects of Mefeedia.com, this new approach is aimed at ending consumers' growing frustration in finding online video that interests them.
"Mefeedia as a personal video portal was founded on the premise that consumers are ready to move beyond simple browsing and searching, and ready to create a more personal, relevant experience that allows people to search and find new video - no matter where that video is hosted, or what device they are using," said Frank Sinton, CEO of Mefeedia.
In addition to general video search, Mefeedia is also launching three vertical entertainment searches: TV, Music, and Podcasts. If a user, for example, only wants to search across TV content, Mefeedia's vertical TV Show Search allows people to find full length episodes and clips from all the major TV networks and cable providers in one place. In addition, the Music and Podcasts search allows users to narrow searches in those particular areas as well.
For more information on this exciting new service, visit the Mefeedia Blog here.
About Mefeedia
Mefeedia is a leading Video Search & Discovery Engine where viewers can easily find, watch, collect, and share video from over 15,000 video websites. The portal allows anyone to create unique and personalized video channels that are continually updated and viewable on virtually any media device -- from PCs to phones to game boxes. Mefeedia is a privately held company based in Burbank, CA. For more information about Mefeedia, please visit http://www.mefeedia.com.
###