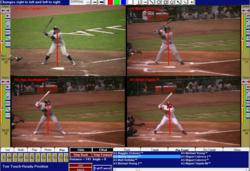 "If you can get your players to a consistent toe touch/ready position with proper timing, you have done your job as a coach" Don Slaught - Owner, RightView Pro
Rolling Hills, CA (PRWEB) March 29, 2012
RightView Pro shows users through relevant video analysis tools, great strides can be made in the art of hitting instruction. RightView Pro is well established as the top training tool of choice for baseball and softball coaches. RightView Pro or RVP specializes in baseball hitting and softball hitting instruction. RVP has also made great developments in the key positions for both the fastpitch pitching and baseball pitching motions.
Since RVP has established itself as the industry leader in video analysis for baseball and softball, it was important to find out why nearly every major college, high school, baseball and softball facility owner in the country uses RVP software to train their athletes. One reason may be the fact that RightView Pro is the only video analysis software company licensed by MLB, MLB Players Association and the National Pro Fastpitch (NPF) league for the use of professional models in the RVP software. But, according to Slaught, it goes much deeper than the access to major league baseball and NPF softball models. RVP has taken it a step further by illustrating what makes these hitters more successful or more efficient. RVP defines these principles and delivers them in easy to understand fashion. "The purpose was not to invent anything in the swing or pitching motion but to develop a better way to see, understand and teach what the best players do," states Slaught. "Our goal was to define the core principles of the hitter's swing in baseball and fastpitch softball, and to provide the most accurate descriptions of those principles.
"We believe our product can bridge the gap from coach to coach and from coach to player, because it is very tough to teach something wrong when you are looking at the very best.
"My son said it best when he was only eight-years-old, 'Oh, Dad, it's easier to show than to explain."
Many hitting coaches have debated about Charlie Lau's linear theory vs. Ted Williams' rotational theory. According to Slaught, both men were correct in their analyses but they both chose different principles to accentuate. "The most efficient swing is a product of both linear and rotational forces. "Ted Williams, Charlie Lau, and all of our Major League Models display the principles of weight shift (linear) and rotation in their swings." RightView Pro focuses on what all the great hitters do and shows the linear move into rotation. It also illustrates what makes these hitters more successful or more efficient.
After spending some time on the RightView Pro website, it is clear that RVP has an abundance of information and tools to solidify the notion that "It's easier to show than it is to explain," as coined by Don's son Cory. But what is the best software option?
RightView Pro has made it easy for any coach or student to get the necessary analysis tools, specific to their sport, in their hands. RVP is a modular system that allows coaches to scale up or scale down video analysis tools from a smartphone app to desktop software; pick sport specific professional models and choose sport specific instruction. RVP instruction plays inside of the RVP Analysis Systems to give users onscreen direction throughout their analysis. RVP provides the guidance on what to draw and what to look at each key edit position of the swing or pitching motion. With world class instructors such as Mike Candrea, Sue Enquist, Steve Ontiveros, Kirk Walker and Lisa Fernandez; credibility is instantaneous.
It is clear that the RVP Products provide everyone the proof and the references to challenge, share, and communicate their instruction. And, above all RightView Pro challenges coaches to remain students of the game.
About RightView Pro
RightView Pro was founded by former Major League Baseball Player, Don Slaught. Slaught's vision was to create a tool where kids and coaches could communicate and easily identify flaws in the swing and pitching motion. He felt strongly, that the only way to do this was with models of Major League Baseball players and professional softball players. Don went to Major League Baseball and in the end..., they agreed that kids and coaches needed models to compare to. Today, RightView Pro is the only video analysis software company licensed by MLB, MLB Player's Association and the National Pro Fastpitch League.
For more information please visit http://www.rightviewpro.com