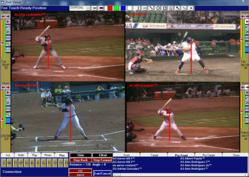 The RVP software has helped speed up the learning curve giving our athletes a distinct advantage." - Mike Candrea, USA Softball Olympic Coach and 8 Time National Champ at University of Arizona
Rolling Hills, CA (PRWEB) April 30, 2012
Don Slaught, owner and founder of RightView Pro, never set out to build the biggest video analysis software company for baseball and softball. Instead, he wanted to find a better and easier way to teach hitting. As a 16 year veteran of Major League Baseball, he thought that when he retired it would be easy to teach hitting at the high school level. Says Slaught, "I quickly realized that in order improve the communication with my students, I needed video images of the game's best players and it needed to be played at a speed they could comprehend." "After studying these videos at 60 frames per second, it blew me away how consistent these pros were with each other, and how easy it was to define the key principles we saw. This is what compelled me to pursue an MLBPA license so I could share what we found with the masses".
In 2002, Slaught went to MLBPA where he received his first license. After the principles of the swing were able to be proved, the next task was to standardize the terminology. "We set out to create the language that would allow coaches and players to communicate, by defining the positions in video to the sixtieth of a second." Slaught goes onto explain, "We didn't invent anything, we were just the first to see it; it was just the common principles we saw in the best players."
The natural transition for Slaught, who has 3 daughters, was to take the information to softball. At first there was push back from UCLA Hall of Fame Coach, and 11 Time National Champion Sue Enquist, but after using the 4 view feature in the RightView Pro software to show how the softball greats such as Lisa Fernandez and Stacey Nuveman looked just like Alex Rodriguez and Albert Puhols, Enquist was sold. The impact was incredible; UCLA won the next two national championships and started a string of 9 straight national champions by RVP clients.

2002 – RightView Pro received first MLBPA license for Homerun Derby Swings
2002 – RightView Pro launched first software products for hitting facilities: IS300& PV300
2003 – RightView Pro received first MLB license
2003 – RVP releases the Basic System (CV300) to provide a low cost capture system
2003 – RVP releases terminology for baseball hitting with the Ip3000-AS instructional software
2003 – NFCA Convention – Sue Enquist (UCLA), announces that the softball swing and the baseball swing were the same.
2004 – RightView Pro signs agreement with National Pro Fastpitch League
2005 – RVP releases the Coaches Edition (Ce300) for high school coaches
2005 – RVP releases softball hitting instruction by Mike Candrea and Sue Enquist
2006 – RVP releases instruction for Fastpitch pitching with Lisa Fernandez and Kirk Walker
2007 – RVP release Stadium Edition with local query and dual camera capture for pro, college and high school programs.
2008 – RVP releases pitching instruction for baseball by Steve Ontiveros
2008 – RVP starts offering Cameras for stadiums and batting cages
2008 – RVP release Advanced Hitting – Adjusting to Speeds and Locations
2009 – RVP adds computers and training aids to their offering
2011 – RVP advances the Stadium Edition query system to a web based application
2011 – RVP Partners with Bloomberg for statistical analysis for Stadium Edition clients
2012 – RVP partners with Interactive Frontiers to launch a video analysis app for smartphones and iPads
2012 – RVP and Interactive Frontiers launch the RVP Online Branded Academies
About RightView Pro
RightView Pro was founded by former Major League Baseball Player, Don Slaught. Slaught's vision was to create a tool where kids and coaches could communicate and easily identify flaws in the swing and pitching motion. He felt strongly, that the only way to do this was with models of Major League Baseball players and professional softball players. Don went to Major League Baseball and in the end..., they agreed that kids and coaches needed models to compare to. Today, RightView Pro is the only video analysis software company licensed by MLB, MLB Player's Association and the National Pro Fastpitch League.
For more information please visit http://www.rightviewpro.com