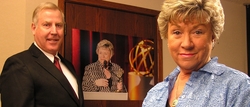 The News Behind The News
Los Angeles, CA (PRWEB) March 31, 2008
Full Disclosure Network®, The only "Reality News" tv program , is set to debut a special two-part cable tv series featuring six Hot Topic Video News Blogs on 45 cable channels starting March 30, 2008. The Full Disclosure Network® series features national and local authorities who hold strong opinions on the issues addressed and in which they are directly involved and knowledgeable.
Who Is Full Disclosure®? "The News Behind The News":
Since 1992 the Full Disclosure Network® has been produced by Emmy Award winning host Leslie Dutton and Producer T. J. Johnston. In 2002 the Full Disclosure® special series L. A.'s WAR AGAINST TERRORISM was recognized by the Academy of Television Arts & Sciences with a local Emmy Award for a public affairs, informational series. For channels and air times by community check listings at http://www.fulldisclosure.net/Channels/channelsINDEX.htm.
The six Video News Blog topics featured in this two-part series are listed below. To view each of the video news blogs (5 to 9 min each) from the URL link below the title.

The series features national and local authorities who hold strong opinions on the issues addressed and in which they are directly involved and knowledgeable
The featured guests in this two-part series are:

Anthony Patchett, Former LADA Sr. Prosecutor
Mike Carona, OC Sheriff
Stan Goldman, Prof. Law Loyola Law School
Thom Mrozek, DOJ Spokesman CACD
Scott Baugh, Chairman OC GOP
Stephen Yagman, Convicted/Civil Rights Attny
Scott Minerd, Guggenheim Partners Asset Mgmt.
Dr. Adrian Moore, VP Research, Reason Foundation
Carl DeMaio, President Performance Institute
Jack Ehnes, CEO CAL-STRS (Teachers Retirement)
John Moorlach, OC Supervisor
Mario Mainero, Chief of Staff to Moorlach
Keith Richman, CA Foundation for Fiscal Responsibility
Hank Hernandez, Legal Counsel L.A. Police Union
William Bratton, Los Angeles Police Chief
Edwin Meese III, former U.S. Attorney General
Torie Osborn, Sr. Advisor to Mayor Villaraigosa
James Q. Wilson, Manhattan Institute-Pepperdine
George L. Kelling, Sr Fellow, Manhattan Institute
Estela Lopez, Exec. Dir. Central City East Assn
Heather Mac Donald, Manhattan Institute Fellow
Carol Wilkins, Supportive Housing Corporation
###