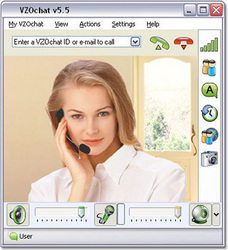 Gaithersburg, MD (PRWEB) December 13, 2007
Visicron has continued developing its solution for comfortable and quick video chatting, and presents VZOchat v. 5.5.1. Up to date more than 220,000 users all over the world have committed to using this free video chat for their domestic and international video calls. The software is specially designed to take little space and be always with you, even if your computer is away.
The developers point out an advanced video streaming process, which makes it possible to display motion in a very natural way. The application also works on low-speed connections and even the dial-up. The messenger performs well even with low resolution webcams. Other advantages of current version of VZOchat include:

Free access to all functions and up-to-date versions and builds
Traffic saving. Unlike many other voice and video messengers, VZOchat is a single server technology. This means that while in chatting mode, your computer does not serve as a node in a sophisticated peer-to-peer network. It only transmits data related to your conferencing activities, keeping your work place free of any unwanted streams of information. This especially important for corporate networks and other locations with paid traffic.
Smart connection. The program deals well with firewalls, HTTPS and SOCKS proxies
Portability. Once having installed VZOchat, take it anywhere on a flash drive. From any point on the Earth, connected to Internet and having an USB port (which is not a problem nowadays), you can start a video talk. One needs to install VZOchat only once!
Big and rapidly growing number of users and communities
The creators promise to further extend possibilities of their messenger and bring video quality even to a higher level.
###