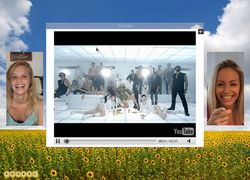 We're trying to bridge the offline and online worlds, through a fun, real-time, collaborative environment
Tel Aviv, Israel (PRWEB) August 17, 2010
Today, Rounds (formerly 6rounds.com) announced the launch of its interactive video chat platform for Facebook Platform. The company's technology is used by people around the world and is known for connecting its members in a way that closely mirrors real life interaction. Members are able to video chat in real time while engaging in various fun social activities and real-time games in a way not previously possible. The platform is available on rounds.com and now through the Facebook application Video Chat Rounds. Rounds was founded in 2008 and has raised $2 million in venture capital funding from Rhodium and Startup Factory investment groups.
Meeting and communicating with friends online became a popular activity for consumers years ago, however, interest in video chatting has intensified recently and there has been a revival of applications that connect people online through live services. This is due to various technology advancements - with laptops, Netbooks, mobile phones and desktop computers coming with webcams built in and psychological shifts - with the increasing level of comfort for sharing experiences online with a large social graph, and an emotional need to connect with friends and family far away.
Rounds' approach differs from other online chat options because of its focus on genuinely replicating a real life conversation. Hundreds of thousands of people currently use Rounds' platform to share online experiences - they play real-time games, take funny snapshots of themselves, watch YouTube videos, share Facebook and Flickr photos, listen to music and spend time together, as if they were both sitting in the same room.
"We're trying to bridge the offline and online worlds, through a fun, real-time, collaborative environment," said Dany Fishel, co-founder and CEO of Rounds. "It's not just about seeing the person you're talking to - people want to share the experience of being online together, show each other cool videos, play games and feel close to one another. This is what we are focused on at Rounds - tapping into the emotional aspect of an in-person conversation and trying to replicate that online."
Today's announcement means that with the Rounds Facebook application, members can now:

Enjoy high-quality video chats with no download requirements
Take snapshots of themselves and share it on Facebook
Jointly browse Facebook's Profiles, photos and friends
Watch YouTube videos together
Play real-time multi-user social games
Collaborate on virtual whiteboards
Co-browse with Google Maps
Dare each other in online Truth or Dare
For more information on how the Rounds platform works, please visit the Video Chat Rounds Facebook application.
About Rounds
Rounds is a social entertainment platform that offers its members the ability to webcam chat, play multi-user, real-time games together, watch videos and enjoy many different interactive online activities in a fun and playful way. The company was founded in April, 2008 by Dany Fishel and Ilan Leibovich and is based in Tel Aviv, Israel. For more information, visit rounds.com.
For more information, contact:
Natasha Shine, Rounds (Israel)
+972 54 802 9810
Rachel Bremer, Sparkpr for Rounds (UK)
+44 207 253 9897
Pam Ames, Sparkpr for Rounds (US)
+1 415 962 1893
Facebook® is a registered trademark of Facebook Inc.
###