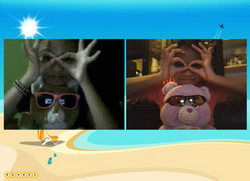 Our Facebook application has always been focused on being a safe, fun environment for everyone to enjoy
(PRWEB) February 1, 2011
Rounds is the ultimate interactive playground, where members create meaningful interactions through shared experiences while video chatting. Just a few months have passed since its launch, and already the Video Chat Rounds Facebook application has surpassed the 300,000 monthly active members mark!
By combining users' shared experiences, an entertaining photo booth feature and many exciting new games, Rounds has become the ultimate social video chat environment. In light of its current momentum, Rounds has now taken it one step further and introduced a Random Rounds feature to the platform. By adding Random Rounds to its already existing interactive layers, instead of just calling a friend, members can now pick any game or activity and decide whether to enjoy it by themselves, with a friend, or with someone totally new.
Rounds differs from other video chat platforms, based on the emotional experience it is able to offer its users. Experiences, which mimic real-life personal encounters. Members can play with fun webcam effects, collaboratively watch YouTube videos, play multi-user interactive games, draw on whiteboards, send gifts to one another, write texts together, and browse websites such as Facebook, Google Maps and Flickr, all whilst remaining in the video chat environment. In addition, the photo booth snapshot feature has become one of the most popular activities on the platform, with over 2,000,000 snapshots taken.
Rounds now offers over 20 different games and activities for its members to enjoy. Recently added to the platform are Sky Blocks War (a head-to-head Tetris-like game), old-school classic Battleship, Trivia Madness (which challenges users to see who is smartest), and Justin.TV (which offers members the ability to watch live broadcasts together). Additionally, via their API (launched in May of last year) developers have created additional games such as Maze Gobbler (a two user Pac Man game), good old Space Invaders (with its own special tweak) and many others.
Along with having fun, privacy and security are main priorities when it comes to the Rounds platform. Many measures have been taken to ensure that members enjoy a secure and safe experience. The following precautions have been put in place to prevent any inappropriate behavior on Random Rounds:

Only members with more than 100 friends may use the Random Rounds feature (Anyone can enjoy the classic Video Chat Rounds platform without the Random Rounds Service)
Members will only be connected to users within their age group
Members real Facebook account information is displayed so there is no anonymity
A powerful reporting mechanism singles out "bad" users. Users who abuse the platform will be blocked permanently and will be reported to Facebook at the risk of losing their Facebook account.
"We believe that Random Rounds offers users a unique fun experience, by allowing members of any age, from any country, to play, share and create memorable photo booth snapshots while meeting someone new. Whether it be through the different activities, the interactive features, or the social matching mechanism that we've created, Video Chat Rounds bridges the gap between the offline and online worlds and continues to connect users in a more personal, emotional and memorable way" states Dany Fishel, Rounds Co-Founder and CEO.
About Rounds
Rounds was founded in 2008 and has raised $2.5 million in venture capital funding. The company is currently working on strategic partnerships and additional features that they will be announcing in the upcoming months.
For more information, please contact Natasha Shine, Rounds' Marketing Manager: Natasha(at)rounds(dot)com
Video Chat Rounds Facebook Application: http://apps.facebook.com/chatrounds
Snapshots taken on the platform: http://www.slideshare.net/rounds/snapshots2011
Short One minute demo: http://www.youtube.com/watch?v=JAU83KGPTT8
Rounds Official Website: http://www.rounds.com
# # #