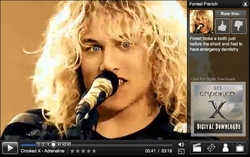 VideoClix provides an exciting new way for fans to engage with the band
Los Angeles,CA (PRWEB) April 1, 2009
Crooked X, its management & production company, McGhee Proffer Media and VideoClix Technologies have teamed up to unleash the next generation of interactive pop-up videos to the masses with the release of the new clickable music video GONE, the searing rock band's latest rockin' hit single and video.
Fans of Crooked X, a young hard rock band on the EMI/MPM label, can now explore, connect, shop and play directly through Crooked X music videos just by clicking on the band members, their clothes and their instruments.
With each click fans get exclusive fun facts and trivia about the band, they can browse tour dates, access digital downloads and purchase Crooked X merchandise.
"VideoClix provides an exciting new way for fans to engage with the band" says Spencer Proffer music and media producer and managing partner of MPM. "Through VideoClix our fans receive a dynamic interactive experience that further strengthens their relationship with the band."
"Sponsors and partners greatly benefit from the new interactive features" says Brent Stafford, VideoClix S.V.P. Business Development. "We close the loop, by connecting fans and brands through clickable video, increasing exposure and relevancy."
For partners like MTV Networks, which has a multi-platform deal with Crooked X, the interactivity provides another avenue to generate excitement and promote band appearances on MTV properties.
GONE is the third in a series of Crooked X interactive videos including Adrenaline and Rock and Roll Dream. All three videos can be accessed through the VideoClix player on the band's official website: http://www.crookedx.com/media
About VideoClix
VideoClix sparked the hypervideo revolution in 1998 and reinvented interactive video in 2007 with its leading end-to-end clickable video distribution and monetization platform catering to content providers and advertisers. VideoClix maximizes engagement, increases retention, delivers unparalleled metrics and monetizes video through the VideoClix Ad Network and licensee's sponsors.
The VideoClix platform includes: autonomous video object tracking, interactive content management system, user friendly web editor, HD quality player, super syndication, load balanced CDN, robust metrics and reporting, social media connectivity, 3G mobile distribution and effective, non-intrusive video advertisement solutions.
Find out more and see VideoClix in action at: http://www.videoclix.tv
About MPM
MPM is a management and production company, with its principals being music and media producer Spencer Proffer and esteemed manager Doc McGhee. MPM is a sister company to Proffer's Meteor 17, a convergence and production venture. M17 is producing and developing an ambitious slate of projects across music, TV, film, Internet, live event, and other platforms, integrating brand marketing and music as organic components.
For Inquiries Contact: James Heise
T: (604) 688-8889
# # #