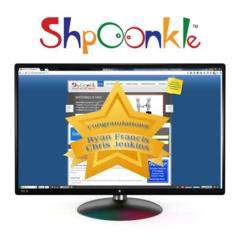 It's been really fun working on this video for Shpoonkle
Miami, Fl (PRWEB) September 19, 2011
The Shpoonkle Summer Video Contest invited entries to create a commercial that perfectly captured the Shpoonkle spirit, the winning entry wins a brand new iPad and national exposure. The winners will also be featured on Shpoonkle.com and shown on an airing of The Balancing Act on Lifetime on September 23rd and October 19th.
Shpoonkle received over 500 entries to the contest with varied content but our winner was chosen. The winning entry was selected on the following criteria: overall concept, quality of video, originality, adherence with contest rules, and reception with the public. Complete details for the rules and runner ups for the Shpoonkle Video Contest can be found at shpoonkle.com/contestpage.
Ryan Francis and Chris Jenkins were chosen as the winners as their video stood out on all areas of the judging criteria. Their entry was their first music video and it drew on lots of different inspirations stated the winners of the contest. Ryan Francis, the star of the music video has a very unique and fun style and wrote all the words and music himself. 'A lot of our style comes from the Lonely Island but we've been like that forever. We try to do serious stuff too, but being in the college environment we are in, it's easy to create fun, sophomoric humor, that people love to watch.' stated Ryan. The music video is so high in production and entertainment value that Shpoonkle has asked the winners to make other videos like this to promote Shpoonkle in a creative viral video marketing campaign.
"It's been really fun working on this video for Shpoonkle, and now they have given us creative license over how to promote Shpoonkle with future videos. We've had a lot of fun making these videos, and its right up our alley. I'm glad that we will this opportunity to work together, and I think it's been enjoyable for both parties." said Chris Jenkins. We also like the message and goals that Shpoonkle services offer and it makes it easier to be creative when you believe in what the message is for the audience. "Since we are still all in school, we have a complete slew of actors to choose from. We've just been asking our random crazy friends if they want to participate in Shpoonkle videos, and they are all really into it. Our actors usually aren't acting, we just match up their characters and their persona and give them specific guidelines and let them make up most of the emotion on their own. It's been working really well, and we are looking forward to making more videos for Shpoonkle. Chris and Ryan have formed a company called Windy Weather Films and Shpoonkle has already released their next video Shpoonkle "Slap." Chris and Ryan have big plans for the upcoming videos for Shpoonkle, so keep an eye out!
Shpoonkle and Shpoonkle Canada are either registered trademarks or trademarks of Shpoonkle, LLC in the United States and/or other countries. The names of actual companies and products mentioned herein may be the trademarks of their respective owners.
For more information, Press only:
Robert G. Niznik is available for interviews, for more information please contact D. Morgan, 305-712-2822, and/or Dani(at)shpoonkle(dot)com.
For more information on Shpoonkle visit: http://www.shpoonkle.com
For more information on Windy Weather Films:
http://www.windyweatherfilms.com
About The Balancing Act:
The Balancing Act TV show is produced by O2 Media, Inc. and airs on Lifetime Television daily at 7:00am (ET/PT). The Balancing Act is a show that is about women, for women and trusted by women. For information, visit TheBalancingAct.com.
###