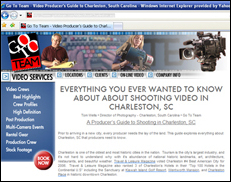 Our intent was to provide video related information to producer's coming to shoot in South Carolina and around Charleston
Charleston, SC (PRWEB) March 6, 2007
Go To Team, the leading provider of video crews in South Carolina, launched The Producer's Guide to Charleston, SC on their website.
This new web guide is full with information about shooting video and hiring a camera crew in Charleston. The new guide was written by local Charleston Director of Photography, Tom Wells.
"Our intent was to provide video related information to producer's coming to shoot in South Carolina and around Charleston," said writer and camera crew Tom Wells.
The guide answers many of the same production related questions every field producer or video crew traveling to Charleston asks:
Where to stay?
Are you familiar with your locations and drive times?
Do you need transportation?
How will the weather affect your shoot?
Do you know the production guidelines for the Charleston area?
Who are the Chamber of Commerce / Visitor's Bureau?
How do I book the right video crew?
Throughout the guide there is information about events and places specific to Charleston, South Carolina including Kiawah Island, Spoleto Festival, Boone Hall Plantation, Isle of Palms, and Family Circle Cup.
The guide is located at on Charleston camera crew provider, Go To Team's Website.
In addition to the Producer's Guide to Charleston, SC, Go To Team's website also has information about shooting and hiring a video crew in other cities in North Carolina and South Carolina including Charlotte and Myrtle Beach.
Go To Team staffs camera crews in Charlotte, NC; Charleston, SC; Columbia, SC; and Raleigh, NC. Their equipment includes Panasonic Varicam high definition camera packages, Sony Betacam packages, and a high definition edit suite. To schedule a production with Go To Team, please contact Go To Team, 843-884-6222. For more information about South Carolina video crew provider, Go To Team visit their website.
###