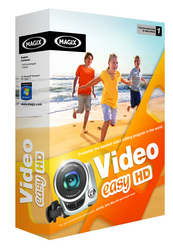 Lanham, MD (Vocus) September 3, 2010
High Definition displays are common place now, as are Blu-ray and DVD players, there is hardly a household that does not have at least one of these devices. As the home equipment evolves so do the personal recorders used to create home videos. Many of the tools used to create and compile home videos are often complicated, and sacrifice of ease of use for convoluted workflows and features that most home video enthusiasts hardly use. MAGIX Video easy HD is not like any other program on the market, because it is geared towards first time video makers, and those in a hurry. Video easy HD allows users to do simple, yet precise editing in a flash. Templates and button design have been specifically created to simplify the video editing experience, and allow for the import and re-encoding of analogue non-digital video footage.
Video easy HD delivers what its name promises – easy and intuitive usability without any prior video editing experience. MAGIX Video easy HD is the first video editing program for the whole family!
The handy wizards make connecting video cameras to a home computer as simple as child's play. Users can create movies for digital footage imported directly in and transform analog recordings of family celebrations, vacations, or special events into a DVD, Blu-ray, or upload your videos on the Internet with total ease.
The new version of this award winning software is available now and can be purchased at the MAGIX online shop for $39.99US and $49.99 Canadian; boxed versions of the software will be available in North America by the end of September.
New features include expanded video effects templates, transitions, more in-depth audio editing tools, and now you can export to Blu-ray, and AVCHD right from the program screen. With MAGIX's own burning software users do not have to leave the program to author the final versions of their creations. All in one place and easy.
MAGIX Video easy HD: Probably the easiest video editing program in the world.
Highlights
? Connection and introduction wizard
? Supports AVCHD camcorders
? Very clearly laid-out user interface with large buttons
? Extensive beginner's manual with step-by-step instructions
? Numerous help functions as video clips
? NEW! Expanded audio editing
? NEW! Video effect templates
? MORE! Additional transition effects
? Practical project archiving on DVD and hard drive
? NEW! Export as file, disc (DVD, AVCHD and Blu-ray DiscTM) and YouTube®
###