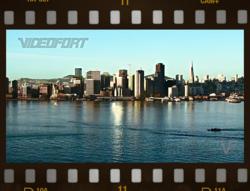 VideoFort.com gives content creators access to one of the most exclusive HD stock footage libraries in the world. ~ Steve Gatena
Hollywood, CA (PRWEB) June 18, 2013
Everyone knows that a picture is worth 1,000 words. In 2013, a minute of video is worth 1.8 million words, according to Dr. James McQuivey of Forrester Research. At that rate, VideoFort's all HD stock footage video library of nearly 500,000 minutes is worth 900 billion words.
Research points to 2013 as the Year of Video. "That is why the timing of VideoFort.com's launch is crucial," said Steve Gatena, founder of the Hollywood startup company. "This year, Video is being recognized as the communication medium of choice. VideoFort's debut comes at a significant time in the development of digital video production and high quality content creation."
VideoFort.com has the research to demonstrate how video impacts online marketing. Here are some of the conclusions drawn from the "big data":
Web traffic relies on video.
By the end of 2013, 90% of all web traffic will be generated by video.
E-mail campaigns CTR nearly double with video.
Video in email marketing increases click-through rates by over 96%. In response, the number of marketers planning to use video in email campaigns has increased fivefold since the beginning of 2009.
Duration of Web site visits jumps.
A recent study found that web surfers spend on average 48 second on a website. When the site features a video, average time spent jumps to 5 minutes and 50 seconds, more than 5 times a text-based site.
Impact on SEO is dramatic.
Video SEO is 53 times more likely to drive a 1st page search result than traditional SEO.
"With all signs pointing to video, my partner and I saw that existing stock footage offerings fall short of serving the needs of video producers, advertising and marketing agencies, PR firms, and small businesses. Our approach is defined by three major breakthroughs," outlined Gatena.
1) "Quality. Cinema quality footage is what video producers need. All of our footage is award-quality HD. For content creators who want to engage viewers and add entertainment value… which is really just another way of saying 'get better results' with video… they need cinema quality, not standard definition footage."
2) "Exclusivity. We give content creators access to one of the most exclusive footage libraries in the world. Other libraries simply can't offer the kind of footage we are providing our members and VideoFort.com members always get the best prices on cinema quality stock footage." VideoFort's HD video clips cover the globe, with settings ranging from remote destinations like the Arctic Circle and Himalayas to helicopter city views of downtown Manhattan and San Francisco.
3) "Cost. Normally, you are looking at a price tag from hundreds to thousands of dollars. The HD Video Clips VideoFort.com's members get can retail for $5,000 a pop at fair market value. But we believe in providing quality content to all content creators in need of quality video. There are millions of small businesses and film school students out there who have been discriminated against for so long. VideoFort believes that they deserve creative freedom. That's why we give our members unlimited downloads for prices as low as $79 per month. Unlimited downloads. No catch. Quality content and creative freedom to produce the videos you need," said Gatena. http://videofort.com/aerialfootage.php
VideoFort is the first all-HD, subscription-based royalty-free stock footage provider to offer its members unlimited downloads of award-quality HD video clips.
About VideoFort:
VideoFort launched on May 21st, 2013. Annual subscriptions start as low as $79 per month and include unlimited stock footage downloads as well as free VFX templates and complimentary filmmaking tutorials.
VideoFort is the first all HD subscription-based stock footage provider to offer its members unlimited access to some of the world's most exclusive content. With hundreds of hours of aerial footage and an extensive library approaching 100,000 HD video clips, VideoFort helps filmmakers, advertisers, and start-up businesses produce Hollywood quality video content instantly and at an affordable cost. In addition to high-quality stock footage, VideoFort offers complimentary VFX templates, free filmmaking tutorials, and a creative forum where video producers can collaborate and interact. VideoFort offers the best footage for TVs, movies, commercials, YouTube videos, corporate media, sizzle reels, interactive video, and mobile communications. VideoFort encourages its members to "Explore. Create. Inspire."
To join VideoFort: http://videofort.com/price.php
To contact the company, e-mail info(at)videofort(dot)com
For more information, please visit VideoFort.com.