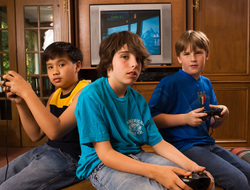 It was such a relief to know that other families are struggling with what the limits are. We still argue about it, but now we joke about it too.
McLean, VA (PRWEB) February 19, 2008
Riding on the wave of the launch of Naked Brothers Band TV series and Disney's Hannah Montana, members of the Black Out Band, three 12-year-olds from McLean, Va., have turned their obsession with playing video games into a recording that has landed on iTunes, with a companion music video that can be seen at http://www.blackoutband.com
Lead singer and guitarist Hunter Watson, bassist Tug Hunter, and drummer Matthew Salutillo, formed The Black Out Band in 2005, and, according to their music coach and producer, Dennis Decreny, the boys played video games, "whenever I turned my head." At his suggestion, the boys composed Video Games, words and music that tell their story. Lyrics to Video Games are on the band's web site, http://www.blackoutband.com
Their single, "Video Games", elicits laughter and nods of recognition each time a new crowd hears it -- from kids as well as their forty to fifty-something parents. This comic ballad mocks the stereotype of today's youngsters as spoiled rotten video game addicts. The song was inspired by the continual tug-of-war between the boys' gaming and their other responsibilities.
The video utilizes 75 screaming adolescent fans and was shot inside a historic theatre by a local production team that previously worked on several Byonce videos. Since its release the video has already been viewed on the Internet more than 250,000 times from the band's Web site http://www.blackoutband.com and other video sharing sites.
Blackout has been interviewed on Fox News following American Idol and appeared on radio talk shows. They are the topic of discussion on dozens of gaming and music blogs around the world. Disney and MTV have inquired about the video. More than 300 mobile DJ's have ordered the music video for their teen parties.
Both parents and kids alike relate to the song's portrayal of the obsessive gamer. It's all clearly tongue-in-cheek and these hard working boys appear anything but spoiled. Indeed the song seems to provide a relief for parents who feel guilty about allowing their offspring to spend large amounts of time at the gaming controls. "I burst out laughing when I heard it," said one Mom in the audience at one of Black Out's public performances of the song. "It was such a relief to know that other families are struggling with what the limits are. We still argue about it, but now we joke about it too."
You can find the release of Video Games on iTunes, Napster and numerous music download services.
About the band:
Hunter, Matthew and Tug -- when not making music or playing video games -- are regular kids who hate homework, vegetables and waking up for school. They also love sports, movies, fast food and just about anything on wheels. They continue to play shows at local schools, community fairs and state festivals and are in demand at Bar Mitzvah's and other teen parties. . In addition, the band has released 3 new songs for an upcoming debut album that reflect childhood influences in their lives - Graffiti, Recess Blues and 6th Grade King. The CD is scheduled for release this summer.
For a Press Kit or Demo, contact Jerry Watson or visit http://www.blackoutband.com
Contact:
Jerry Watson
Black Out Band
http://www.blackoutband.com
###