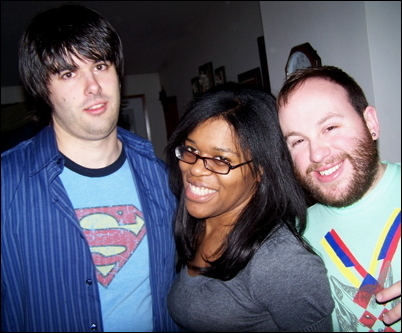 Why do you play video games?
Bellingham, WA (PRWEB) April 19, 2007 -
Gamespeek is holding a promotional contest asking gamers why they pick up their controllers. Hosts Aaron Apple, Lauren Miller and Chris Palmer will randomly reward one person who responds to the question on their forum, "Why do you play video games?" The winner will receive a copy of any one video game of their choice for Nintendo Wii, Nintendo DS, PlayStation 3, PlayStation 2, Sony PSP or XBox 360.
"We are having the contest on our forum because it is the best place to share ideas, discuss the industry and have debates," Apple said. "I'm sure this contest will spark some lively discussion among our current members and bring in some new members to participate as well."
The hosts of Gamespeek will draw the name of the winner during a future episode of the show. The winner will be notified via email and they will be able to select the game. Contestants simply need to register for the forum and reply to the contest thread at the top of the page.
"We've held a few contests before with a lot of success," Miller said. "We gave away a ton of E3 swag to three different listeners in May and a free game when we had a contest to rename our podcast."
About Gamespeek:
Gamespeek (formerly known as Pacific Standard Time) is a video game podcast that comes out every week. The podcast brings listeners the latest gaming news, reviews, previews, release dates and more. Each week a different video game related band is featured during the podcast.
Hosts Aaron Apple, Chris Palmer and Lauren Miller all reside in the Pacific Northwest and have been Podcasting since March 2006. Aaron and Lauren have covered the video game industry trade show E3 two years in a row and the three of them hope to travel to Los Angeles this October for the new E For All Expo. Gamespeek can be found on iTunes by clicking here.
Contact:
Aaron Apple 360-540-0831
Lauren Miller 206-963-6951
Chris Palmer 360-466-8316
Hosts
http://www.gamespeek.com
gamespeek(at)gmail.com
# # #