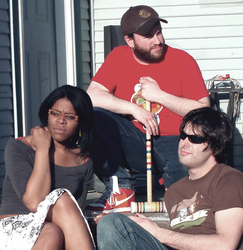 It's such a great feeling to hear people screaming for Mario and the gang
Bellingham, WA (PRWEB) July 24, 2008
Sedro-Woolley, WA (PRWEB) July 24, 2008 -- For the fourth year in a row, hosts of the Gamespeek Podcast participated in the Loggerodeo Parade in Sedro-Woolley, WA. A new video has recently been released at http://www.gamespeek.com that captures the parade and the performers in all their glory. Readers may also watch the embedded video on this press release.
Under the name Team Tetris, members of the group dress up as some of the most memorable characters in game history. This year's roster included Mario, Luigi and Princess Peach from the Mario universe; Scorpion and Sub Zero from Mortal Kombat; and an original NES Controller. In the past, the group has performed as Mega Man, Proto Man, Princess Daisy, Link, human-size Tetris blocks and Lakitu (the cloud-riding guy in the Mario games who throws spinies and fishes with coins).
"It's such a great feeling to hear people screaming for Mario and the gang," Gamespeek Co-host Aaron Apple said. "To get to bring an element of fun to a parade otherwise filled with logging trucks and political advertising; it's very rewarding!"
Gamespeek Co-host Chris Palmer played the part of Scorpion from Mortal Kombat this year. "Fighting as Scorpion was a total blast. The Mortal Kombat theme song would come on in the van and Sub Zero and I would battle in front of the crowd. It was a lot of fun and we were all exhausted by the end."
As the group is moving down the crowded streets, they are doing choreographed routines that they've come up with. This is especially important in front of the judges, who will be giving awards after the parade. Team Tetris has previously won for "Best Community or Church Group."
Gamespeek hosts Chris, Lauren and Aaron hope to organize another Team Tetris performance next year, and would consider performing in other parades in the area as well.
About Gamespeek:
Gamespeek is a video game podcast that is now released in video format. The podcast brings listeners the latest gaming news, reviews, previews, release dates and more. Each episode a different video game related band is featured during the podcast.
Hosts Aaron Apple, Chris Palmer and Lauren Miller all reside in the Pacific Northwest and have been Podcasting since March 2006. Aaron and Lauren have covered the video game industry trade show E3 two years in a row and the three of them were at the Penny Arcade Expo and the E For All Expo in 2007. Gamespeek's channel can be found on youtube here and on iTunes here.
# # #