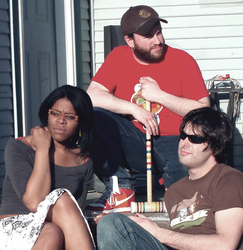 This was one of the hardest podcasts to film
Bellingham, WA (PRWEB) September 24, 2008
Gamespeek have managed to release its latest video, but not before the crew was infiltrated from within by zombies, causing chaos and fear. Gamespeek Co-Founder and Host Lauren Miller began the podcast without her co-hosts, Aaron Apple and Chris Palmer, intending to talk about a slew of upcoming zombie games; including Left 4 Dead, Resident Evil 5, Dead Rising, Onechanbara and The Last Guy. Unfortunately, she was interrupted by Apple in a state of distress, and things continue to degenerate.
"This was one of the hardest podcasts to film," said Miller. "Not only did I have to report on the upcoming Zombie games, but Aaron and Chris were chasing me around the house trying to make me become one. For the first time it was just me hosting, but after Aaron finally made an appearance and bit me, things were a bit challenging from there. But we finished."
In response, Apple and Palmer both responded with an unenthusiastic, "Urrregheh-mnuuumm."
To watch the video, either click the play button on the video embedded on this page, or visit http://www.gamespeek.com, where visitors will find an archive of game-related videos.
This episodes features Special Guest Zombie Tom King and music by Derecho.
About Gamespeek:
Gamespeek is a video game podcast that is now released in video format. The podcast brings listeners the latest gaming news, reviews, previews, release dates and more. Hosts Aaron Apple, Chris Palmer and Lauren Miller all reside in the Pacific Northwest and have been Podcasting since March 2006. Aaron and Lauren have covered the video game industry trade show E3 two years in a row and the three of them were at the Penny Arcade Expo and the E For All Expo in 2007 and PAX again in 2008. Please visit Gamespeek.com for more information.
# # #