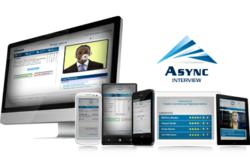 With over 115 million smartphone users in the U.S. alone, we believe our clients want to have access anywhere
Philadelphia, PA (PRWEB) January 10, 2013
Async Interview, provider of live and pre-recorded video interviewing tools has introduced mobile compatibility to its recruiting solution. Employers can now view, rate and comment on video interviews via their iPhones, iPads, Android, and Windows devices.
"With over 115 million smartphone users in the U.S. alone, we believe our clients want to have access anywhere to view candidate video interviews quickly", says Chris Young, CEO of Async Interview. "Our mobile compatibility doesn't require clients to download an app making it that much easier for them to use and make decisions."
Async Interview's mobile solution makes it easier for recruiters and hiring managers to watch a candidate's interview and provide valuable feedback to the team while on the go. It further enhances their slogan "View Whenever, Decide Together" and allows hiring managers additional flexibility in reviewing the virtual interviews.
"The mobile announcement is a significant milestone for Async," said Young. "Our industry is beginning to provide more mobile access and we believe video interviewing is a big part of that."
ABOUT ASYNC INTERVIEW
Async Interview (http://www.asyncinterview.com) is a technology and service company meeting the needs of corporate and outsourced recruitment professionals through its video interviewing technology. Its suite of video interviewing tools are built to address a process bogged down in inefficiencies, rising costs and laborious procedures. The cloud-based, real-time system gives recruiters, HR Professionals and hiring managers the ability to interview, evaluate, collaborate and hire the emerging workforce.