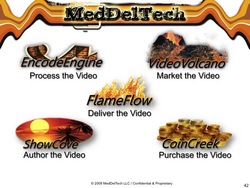 hard disc in the cloud
Aspen, CO (Vocus) October 8, 2010
Here is a brief and fascinating history of the development of Television in America. Right after World War II, television was broadcast by a Network to local TV stations and then received by viewers in their homes with Rabbit Ears - set-top antennas.
Those early local TV station received their programming from a national network like NBC, ABC, or CBS. We can call this the First Generation of Television. Amazingly, that was not much more than 50 years ago. A mere blink of an eye.
What we will call the Second Generation of Television began around 1985, 25 or so years ago, when the Cable television industry introduced the rise of cable networks like Comedy Central, ESPN, and Discovery. Other channels, like PBS, had also come into being by then. And even though PBS had no commercials, the delivery of the TV signal was no longer free. The set-top antennas all but disappeared and, with cable, most viewers paid a monthly fee to receive the programming.
We are now in an era that we can call Techno TV, the Third Generation of Television. Thanks to Phil Leigh, Senior Analyst at Inside Digital Media, for some of this information. In this new era, much new Video resides within the Internet Cloud. And it is expanding by the day. A completely new era is upon us. Now there are Broadband ISPs – Internet Service Providers, which charge a monthly fee to provide access to both Television Channels and also Internet access.
In our modern world, this varied TV Programming is available on-demand and is searchable - the "Long-Tail" stretches to near infinity. TV sets now have multiple input sockets enabling Internet connection through a variety of devices, but the laptop computer is the surprise leader. It is cheap compared to competitive appliances and it enables consumers to get Video from the PC to the TV.
Some consumers have shown a preference for the free viewing provided by ad-supported websites. But this has not satisfied the needs of the Program providers, so new and different business models are being tested on an ongoing basis. With Video-on-Demand and Pay-per-View models like HBO and others, there is clearly an opportunity for a tremendous variety of other content to be sold to viewers in various ways.
Compared to Standard TV viewers, Techno TV consumers enjoy the on-demand access, personalization, online sharing, interactivity, place-shifting, search functions, Long-Tail content, and podcasting features. Program providers, and related businesses, will especially like the revenue versatility, interactivity, and the branded media opportunities. And, as of this Sunday, October 10, independent Videomakers will be able to utilize the new VideoVolcano service.
Third Generation or Techno Television enables consumers to watch shows on their own schedules without having to remember to "TiVo" them in advance. Search engines can find desired programming and discover shows of interest in the Long-Tail. A growing ability to interact with programming, and share it with others, makes Internet Video adaptive to personal needs. The convenience of podcast subscription permits consumers to avoid missing any episodes with a single initial button-click. Ultimately, even network TV shows will join the podcast
revolution.
Concurrent with TV's growing Internet access is the increasing popularity of digital media consumption in a variety of places, on a number of devices. For example, many travelers watch TV shows routinely on their laptops or iPods. Businesses also gain from Internet-Video-to-the-TV. One way is increased versatility in revenue sources. While advertising and fees may remain the dominant revenue categories, in time, they'll surely evolve significantly.
Fee-based revenues include rentals, purchases, and subscriptions. TV shows and movies are commonly available as rentals and purchases at websites such as Apple's iTunes Store, Amazon-Video-on-Demand, Netflix, and the Xbox Live Marketplace.
Program providers will also benefit from interactivity. It reduces the friction in commerce, enables impulse purchasing, and permits authorized Videos to be distributed virally as consumers and third-party websites share content among themselves.
After years of steady progress, the stars of the enabling technologies are also in alignment. Over one-third of domestic homes have at least one flat panel TV and this figure is projected to rise to nearly 90% by 2011. Similarly, more than 60% of U.S. homes have broadband Internet access. Over half of the U.S. broadband
households already have a home network.
Presently, there are three categories of Internet Video, (1) User Generated, (2) Web Studio, and (3) Conventional TV and Movies. YouTube convincingly demonstrates the validity of the Long-Tail. Viewers watch over 5 billion streams monthly, much of which is User-Generated and unavailable on television. Traffic is growing at over 100% annually. Along with similar websites, YouTube also created a market for professionally produced shows, termed Web Studio, that have not been taken-up by conventional television.
Perhaps the most significant development during the past year was the spread of conventional TV shows and movies to the Internet. They became legitimately available as either downloads or streams. Downloadable content is normally obtained as a rental or purchase for a fee. In contrast, advertising-supported websites normally only provide video as streams because streams cannot be conveniently copied and pirated.
Generally, content providers prefer selling and renting downloads. Consumers have the opposite preference. They like watching TV show and movie streams for free from ad-supported websites. But one of these, Hulu, is now in the process of changing that model and charging a fee for viewing.
Given the copyright holders' download preference, few vendors offer unrestricted methods for getting Internet Video streams to the TV. However, a number of services and hardware makers have teamed together to provide the TV with restricted Internet access. Specialized appliances such as Vudu attach to the TV and enable consumers to download movies and TV shows.
Although few companies focus on getting Internet Video streams to the TV, consumers are figuring-out how to do it because some want the free shows at ad-supported websites. But, mainly, they want to watch on a larger screen rather than a smaller one. One way that is unexpectedly popular is to simply attach a laptop computer to the television. It is an almost unintended consequence of TV set evolution and declining laptop computer prices.
Third Generation Techno Television has been evolving for years. It is an exponential trend which is at the threshold of mass market adoption. Presently, one-third of domestic households own flat panel TVs. Nearly all of them have sockets that enable Internet devices to be attached. Furthermore, as stated above, it is estimated that almost all of American homes will have flat panel TVs by the end of 2011.
There are several reasons why the next computer "Killer App" may well be use of a laptop as an Internet "Media Controller" for the TV. When a laptop functions as an Internet "Media Controller" for the TV, consumer viewing experiences will change radically.
First, and foremost, consumers shall become accustomed to unrestricted Internet access at the TV. Thus, all types of media shall be consumed, not merely Internet Video. The set-up enables a true multimedia experience.
Also, the Long Tail of videos provides access to shows that would otherwise never likely be experienced. Examples include old movies, out-of-syndication TV shows, documentaries, Web Studio content, and, most importantly, the very popular user generated videos.
Search engine use shall be as important for Internet Video as for traditional Internet content. And, as more video gets put on the Web, consumers will regard the Internet as a vast storage library. It will be their "hard disc in the cloud" that can be accessed anywhere, anytime. Ultimately it will obsolete the DVR. And, as video podcasts become more popular, the ease of subscription will lead TV networks to offer regular shows via podcasts.
While some consumers discover the functionality of the laptop as a "Media Controller", others will begin to make increasing use of Internet-Video-on-the-TV, but in smaller steps by using appliances that provide only limited access. A few may even circumvent the TV altogether by using projectors with their laptop computers, but the bulk will prefer a TV as the display mechanism.
The era of Techno Television is truly at hand.
And, among the many new tools that may be used by independent Videomakers is the soon to launch VideoVolcano service.
This recent development will allow the most basic of Videomakers to encode, upload and market their Videos for a user-set price. So, not only is TV now Techno, it is also Democratic beyond any previous conception.
For any specific questions, please contact directly the inventor of this new service, Marty Stouffer.:
Marty Stouffer
Media Delivery Technology LLC
Aspen, Colorado, USA
Telephone 970-925-3033
Cell phone 970-309-7444
marty(at)meddeltech(dot)com
http://www.MedDelTech.com/video.html
###